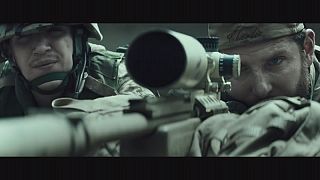 'American Sniper' is based on the autobiography of US Navy SEAL Chris Kyle, known as the most lethal sniper in US military history.
Having served in the Iraq war, Kyle was rewarded for acts of heroism in combat for saving lives on the battlefield.
US actor Bradley Cooper plays the lead character: "The fact that you're basically putting the trust of his family in your hands to tell this man's story, their family members' story, so I'd say a lot of pressure that I put on myself. And so I should because it's a huge honour to be able to play this man," he said at the film's premiere in New York.
Taya Kyle, Chris Kyle's real-life wife attended the film's New York premiere.
"I feel happy to see it because I love our love story, and I love him. So to be able to just go and see him again in that way tells me what a good job Bradley did portraying him," she said.
'American Sniper' is the 34th film by legendary Hollywood actor and director Clint Eastwood, who choses to focus not on Kyle's guilt of taking lives, but the agony of not saving enough.
"I liked the story of the family. And I liked the story of him being a heroic guy. And an ace, you know, the biggest sniper kills of any person in US history. And then to find out what makes him tick, you know. What makes him tick, but how does he feel about it," said Eastwood in New York.
British actress Sienna Miller plays the lead character's wife. It was her first time working with Eastwood:
"He does one or two takes, but he totally directs. It's not that you are left stranded or floating, he's there. He just creates an environment where you're capable of doing something on the first take, and that's his magic," she said.
Kyle was honorably discharged from the Navy in 2009. He was shot and killed at a shooting range in 2013, along with a friend. The man accused of their murder is awaiting trial.
'American Sniper' surprised pundits by picking up six nominations for the upcoming Oscars including Best Picture and Best Actor.
The film is on global release now.