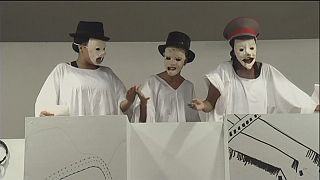 The super-wealthy have descended on Miami Beach for the Art Basel fair, a spin-off of the contemporary art fair held each June in Switzerland.
Featuring works by more than 250 of the world's leading art galleries, it's expected to draw more than 70,000 visitors and provides a unique chance for art dealers and purveyors of lifestyle and luxury to make business.
Over the course of four days in Miami, art is everywhere:
"I believe in wearable art. And I think there's a lot of beautiful art here. Some of it's walking around, most of it's on the walls or on pedestals. But I thought that I'd wear my traditional Chinese fabric," says fair attendee Harvey Dzodin.
"Of course, what's better to wear? Like something hand-painted, like a piece of my collection? I hand-paint all the silks," says Italian fashion designer and artist Valerj Pobega.
Dozens of extra events are scheduled alongside the fair. Visitors can also expect happenings like a video featuring Lady Gaga inspired by Jacques-Louis David's 'The Death of Marat' or a party hosted by David Lynch's Parisian night-club.
Now in its 13th year, the event has played an important role in the economic rebirth of Miami Beach, which, according to one of the event's founders, is no longer just a "sexy, superficial place to party" but a brand in its own right.