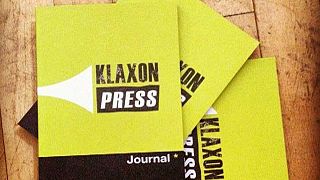 Despite recent efforts to encourage young artists, Bulgaria, one of the poorest member states in the EU, is still notorious for a lack of support for those wanting to make their art a career. In November 2013, a group of young entrepreneurs and artists decided to change the scene. They launched a non-profit youth art collective called Klaxon Press with the idea that if you want to see changes in other areas of your society, promoting culture is a wise start. Its main goal is to act as a forum for emerging local artists, photographers and writers by providing a platform for their activities through live events and publications in a variety of formats.
Earlier this month, they presented an innovative bilingual publication of new Bulgarian poetry, prose, illustrations and photography called Klaxon Press Journal. The creators believe that Bulgarian readers have a thirst for new art which they often do not embrace for a number of reasons – not knowing how, where, who, and viewing art as a luxury and not a necessity, when it is more often than not, the latter.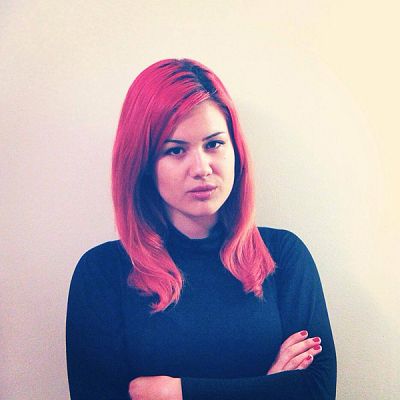 Monica Georgieff, Creative Director - Klaxon Press Collective
Monica Georgieff, the Creative Director of Klaxon Press Collective, is a 21-year-old Bulgarian who lives between Toronto, London and Sofia. Coming from a family with tradition in the arts, she wants to show the artists from her homeland that they have a place on the local and international stage without necessarily having to emigrate to get exposure.
"My art happened to be literature and my home happened to be Bulgaria. So here we are."
The inspiration for forming the group came, in part, from her time living in Canada, where she was exposed to the collective format in which everyone takes on several roles in order to proliferate the work of new artists in the local and national community. She realised this type of artistic encouragement, opportunity and platform did not exist in Bulgaria even though there was an ever-increasing pool of talent. Despite the fantastic quality of art Bulgarians deliver, she admits that artists often don't have the time or qualifications for the other tasks required in the business of art – namely organising events and appearing publicly so their work can be noticed.
"These types of things are creative but also require a different type of categorical mind. That is why at Klaxon Press: 'You make the Art, We do the Legwork'."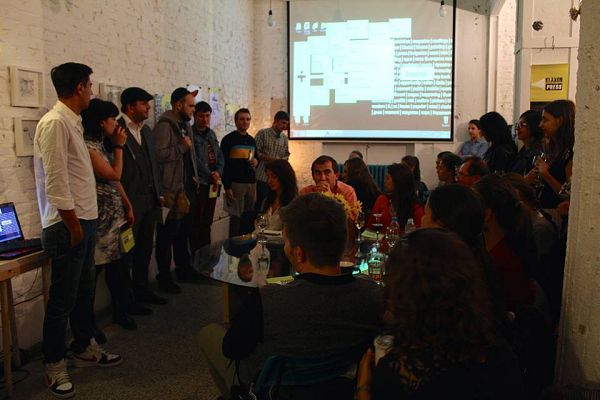 The launch of Klaxon Press Journal
Initially, her ambition was to publish an online 'zine' from her laptop, but then she noticed that Bulgarian audiences respond much better to personal contact than those in North America. That is when the physical publications, the showcases and the reading series became a big part of what Klaxon Press does. The team quickly expanded from one person on a laptop to a ten person core team with over 50 connected artists around Bulgaria. It is not surprising that the team chose the Klaxon as its symbol. It represents the call for new material, for more art, for a receptive, experimental audience.
"The Klaxon is not modernist, or postmodernist, instead, it is klaxist precisely because it accepts people who are willing to be engaged on many different levels, create new things and not be pinned down by labels. We only hate apathy. Apathy is the worst," concludes Monica.
When asked what motivates her efforts to transform the artistic landscape, she says, "art is something capable of pushing you to deploy ideas that make ripples."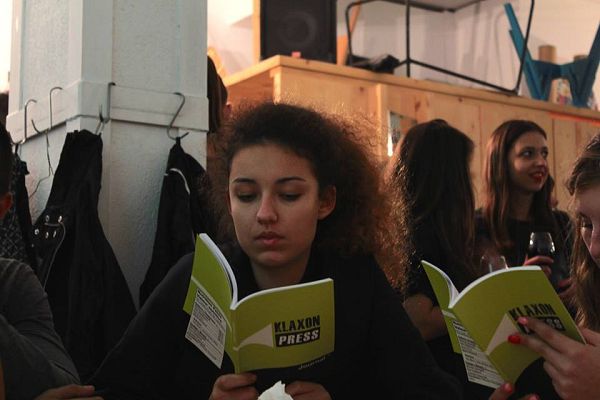 Projects like this have a better chance of growing into sustainable ones with the help of local sponsors (such as Sofia University Press, which helped the team to print and distribute the journal) and the exploration of untapped resources abroad. Despite the fact that many Bulgarians are sceptical about whether their work will be successful abroad, Monica believes that with the right understanding of marketing and demand, art can be as profitable as any other business.
Apart from the successful journal, the team previously organised Kokimoto's exhibition "Spiritual Trip" with the support of Betahaus | Sofia and ABSOLUT. Their next project remains a secret but, Monica hints that it will be something for the amateur DJs, graffiti and digital artists of Bulgaria. If you are interested in Klaxon Press and want to get involved, email info@klaxonpress.com. You can also find the first issue of Klaxon Press journal here.