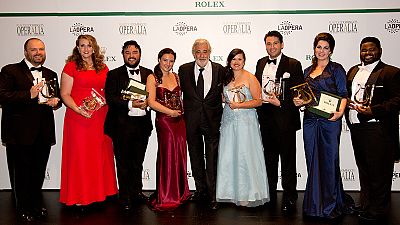 In partnership with medici.tv
The world opera competition – hosted by the Los Angeles Opera
Operalia, Plácido Domingo's competition, returns to the Los Angeles Opera for the third time! Watch the final round of the competition, with 10 finalists over a thousand candidates, live on medici.tv – and be the first to discover tomorrow's stars!
Winners of the 2014 Operalia Competition:
Female
1st Prize – Rachel Willis-Sørensen, soprano
2nd Prize – Amanda Woodbury, soprano
3rd Prize – Anaïs Constans, soprano and Mariangela Sicilia, soprano
Male
1st Prize – Mario Chang, tenor
2nd Prize – Joshua Guerrero, tenor
3rd Prize – John Holiday, countertenor and Andrey Nemzer, countertenor
Audience's prizes
Amanda Woodbury, soprano
Mario Chang, tenor
Zarzuela prizes
Mario Chang, tenor
Rachel Willis-Sørensen, soprano
Birgit Nilsson prizes
Rachel Willis-Sørensen, soprano
The CulturArte de Puerto Rico Prize
Joshua Guerrero, tenor
Founded in 1993 by Plácido Domingo, Operalia is an international singing competition which aims at revealing the most promising talents and personalities in the operatic world. Among the singers rewarded by Operalia, we can quote Ludovic Tezier, Rolando Villazón, Stéphane Degout, Inva Mula, Nina Stemme, José Cura, John Osborn, Susanna Philips, among others. Every year, the competition sets in a different opera house. Following Paris, Mexico, Madrid, Tokyo, Milan, Moscow, Beijing and Verona, Operalia is hosted by the Los Angeles Opera for the third time! And for the fifth year in a row, medici.tv partners with Operalia to broadcast live the final round of the competition.
Operalia's goal is clear: highlight the young talents and help them in their professional career. Plácido Domingo: "Talent alone is not enough; it is also essential for young singers to come to the attention of those impresarios, managers, casting directors, conductors and stage directors who can further their professional careers. My purpose in Operalia is to help identify not only the best voices, but also to discover those singers whose personalities, characters and powers of interpretation show that they have the potential to become complete artists. Individuals such as these become tomorrow's stars. This is why the jury is not exclusively made up of great singers but also includes general managers, stage directors and casting directors."
Check the detailed program for this concert;
More information on the contestants and the jury members for Operalia 2014;
More information on Plácido Domingo's Operalia competition.
Generous support for the Medici TV Broadcast by Lloyd E. Rigler – Lawrence E. Deutsch Foundation
Special additional LA Opera support from Peter and Diane Gray