Can you imagine over 6 million people on just 42 hectares? In just 16 days? Thousands of strangers having fun at the world's largest funfair? No? Then you don't know what it is like to go to Oktoberfest.
For those of you who have already been to Oktoberfest you are likely to come at least a 2nd time – why? Because even though there are Oktoberfest celebrations all over the world, nothing can come close to the original one in Munich.
What is it?
Oktoberfest is the world's largest fun fair held every year in Munich, Germany. Last year, 6.4 million people visited the festival for a dazzling mix of amusement rides, stalls, local food and – of course – beer. In 2013 the festival served 6.7 million litres of beer, an impressive statistic which might even be topped in 2014.
Starting from late September and lasting up to 18 days, visitors get to enjoy typical Bavarian food specialities, such as: Hendl (roast chicken), Schweinshaxe (grilled ham hock), Schweinebraten (roast pork), Steckerlfisch (grilled fish), Würstl (sausages) along with Knödel (potato or bread dumplings), Käsespätzle (cheese noodles) and Sauerkraut. You'll also see Brezen (pretzels) served with Bavarian delicacies and Obatzda (a spiced cheese-butter spread).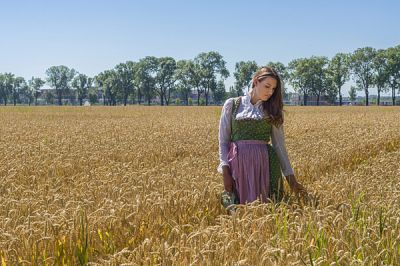 If you weren't hungry before you will be now, because all this is washed down with the highly praised Bavarian beer, all brewed within the city limits of Munich. However, this famous beverage served in giant mugs warrants a warning, although delicious, it contains an alcohol percentage of around 6% so be careful – many people underestimate the high alcohol and sugar content. Stay aware and control your consumption enough to have fun and enjoy the festival!
Oktoberfest beer breweries:
- Augustiner-Bräu
- Hacker-Pschorr-Bräu
- Löwenbräu
- Paulaner
- Spatenbräu
- Staatliches Hofbräu-München
Traditions
Since 1950, the festival begins with a cry of "O'zapft is!" from the Mayor of Munich ("It's tapped!" in the Austro-Bavarian dialect). It all kicks off at 12:00 with the tapping of the first keg which is given to the Minister-President of the State of Bavaria.
Visitors still call the festival Oktoberfest but the locals often just call it 'Wiesn' (Prairie) after King Ludwig I's marriage to Princess Therese of Saxe-HIldhausen on October 12, 1810 in the fields in front of the city gates. The fields were named Theresienwiese (Theresa's meadow) in honour of the Crown Princess.
When imagining German people some foreigners picture us wearing Lederhosen and Dirndls, and the image is increasingly becoming a reality at the festival. The young generation started wearing the traditional costume to the event in around 2000. Since then the majority of visitors are also seen in one. It is also becoming more and more likely to see foreigners in the local dress, an aspect that draws people together from all over the world.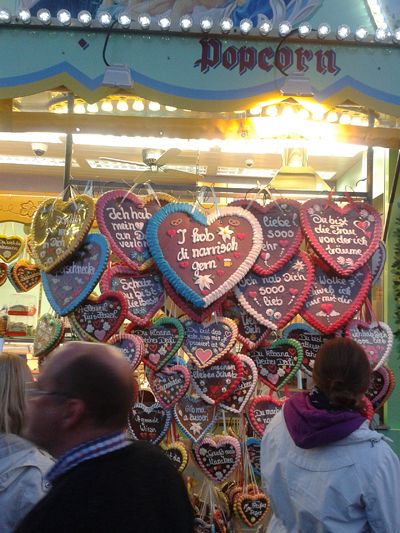 For older people and families, the concept of the "quiet Oktoberfest" was developed in 2005. To reduce the party mentality and the number of drunken people, the organisers established some rules concerning music volume in the tents. Until 6pm, the tents only play quiet music, for example traditional wind music. Only after that will Schlager (Bavarian pop songs) and pop music be played, that's when you'll find people standing up on the benches, singing with all their might.
Oktoberfest has one main goal. To keep the Bavarian tradition alive and to unite old and young, foreign and local. Since 1970 the festival has also been uniting gay and straight with a dedicated' 'Gay Day', which since 2000 has always taken place in the Bräurosl tent on the first Sunday of the festival.
If you want to go and experience the world's largest funfair, here is some information for you:
- Oktoberfest 2014: September 20 – October 05
- Beer prices: 9,70 – 10,10 euros
- Every Tuesday is family day. Tents and the rides offer price reductions
- Entrance to tents is free
- Most tents stay open until 23:30, 'Käfer Wiesn-Schänke' and 'Weinzelt' are open until 1:00
- Beer bar: Monday-Friday: 10:00 to 22:30, Weekends and holidays : 9:00 to 22:30, Fairground ride: 10:00 to 23:00/ 0:00
- Address: Theresienwiese, 80339 Munich
Image credit: (top) Flickr/digital cat
You might also like