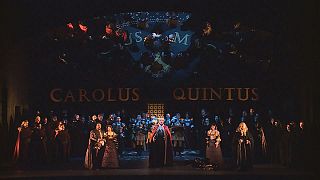 It is the opera that turned Verdi into an international star. Ernani is a melodrama of love and jealousy, honour and revenge.
No fewer than three men lose their heads for a woman, Elvira; the baritone, the bass, and the tenor, Ernani.
Composed by Verdi in 1844, the opera is based on Victor Hugo's Hernani. It was recently staged at the Monte Carlo Opera House, where it triumphantly ended the season.
"Ernani is the ultimate romantic hero, alone and for ever the outcast," said stage director Jean-Louis Grinda. "He's a sort of desperate psychopath who believes in honour above all things, simply because he's got nothing else to cling to. He's a sort of heroic loser, a tormented man. Today he would simply be called a loser."
Mirrors are very prominent in the stagecraft. Grinda explained they are a symbol of the central character's internal turmoil: "They reflect a troubled, blurry image. One wonders 'Is what I see real? Or is it just a reflection? Or is it reality?' You can go deep into an opera through this tool – the mirror. Besides, I like the idea of leaving some room to the undefined, the uncertain. So, I tried not to betray Verdi and still present a different vision. Vision… mirror… I think these ideas work well together!"
The unexpected final catastrophe hits every character but one: the king, later crowned Emperor Charles V, the baritone. To him Verdi offers probably the grandest scene.
The orchestra and singers were conducted masterfully by Daniele Callegari.
"I sing through the whole opera," he said. "I sing along with the singers, and when they lose contact with me because they have to turn their backs, or because there's some minor problem, the moment they face me again their eyes look for my mouth, and the contact is established again. You see, I also act as a prompter!"
For Grinda the the real impact of the work comes in the finale.
"In Hugo and Verdi there's often a coup de théâtre at the end," he said. "A coup de théâtre at the end of an opera is one of the pleasures of this genre; what is wonderful is that the audience knows it's going to come, but even if they know, they are happy to see it because the public loves being surprised by what they know already!"