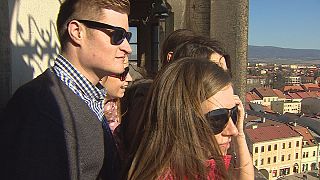 In the Slovak city of Prešov a group of young people are insisting on being heard. They have set up an alternative parliament and are mobilising young people into exercising their civic rights and duties.
The young activists have high ambitions for their city. They are members of the local 'Youth Parliament' and say they are taking matters into their own hands – for the benefit of the community. One of their actions is a survey asking young people about their concerns and what changes they would like to see in Prešov.
Leading member Peter Kmec says "They [the young people] go home from school, play on the computer, stuff like that… but don't really engage. So this is one of our missions: to engage young people and find out some activities that could get them to get out a bit more and do something for the city."
Participation in elections is a top priority in the campaign to raise awareness.
"A lot of young people don't even know that there is something like European elections," says Kmec.
"We found out that the young people who weren't 18, they would also like to vote, if the age could come down. They also really like the idea of having electronic elections."
Their active citizenship initiatives are very diverse: from community work to organising concerts and youth activities.
Daniel Astary is one of the newest members of the youth parliament. He teaches young kids the importance of team work in football.
Taking a break during a training session with his team he told us:
"It makes me really happy that, as I did, they're getting to learn discipline and a healthy lifestyle. I'm teaching these kids the importance of the spirit of fair play. We're creating such a positive environment in this city, that they won't want to leave Prešov or go abroad."
The Youth Parliament regularly engages with the Town Hall, frequently proposing projects. Mayor Pavel Hagyari says the entire community benefits: "Prešov is a very old city, it is more than 800 years old. But in its soul it's young, because we have more than 30,000 students.
"We like the youth parliament's ideas, the cultural and sports activities they organise. That's why we value this, because they build a bridge between youth and politics."
The youth parliament was given the backing of the European Commission to run, among other things, a series of meetings called Open Voices, where young people debate local issues.
Another 'parliamentarian', Miroslav Karahuta says: "It [Open Voices] was created because a lot of young people speak about their ideas and problems, but just inside their group of friends or families. So, the problems are not solved, the ideas are not spreading."
For Peter Kmec, the parliament opens up possibilities for all young people in the city: "Maybe you don't know about it, but there is a space for you too, to participate and to create something that can be really great."
The parliament has re-connected young people to politics, if not politicians, says Miroslav Karahuta: "Politicians are – it's not very nice to say – but they're something 'dirty' for young people. The youth parliament is important because the young people will listen to other young people, but they don't want to listen or even care about politicians."
The Generation Y stories continue on our social media pages.
Facebook
Twitter
Google+