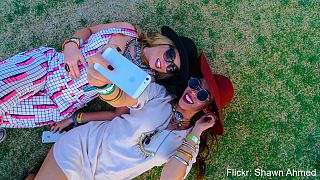 Does being a generation obsessed with selfies mean that we're a generation obsessed with ourselves?
While scrolling down my Facebook newsfeed, I came across an article that was gaining some traction within my circle of friends: "Doha named the selfie capital of the MidEast," read the title. Although I wasn't surprised (a quick scroll down my Instagram page would show you why), I was curious to read more.
The article stated that in a survey by TIME Magazine, residents of Qatar's capital were the biggest 'selfie-takers' in Middle Eastern countries and ranked number 42 worldwide.
All About Me?
The survey got me thinking about why selfies had gained so much popularity in such a short period of time. Switching to the front camera of your phone and stopping for a selfie regardless of where you are, who you're with, or what you're doing has become a routine part of many people's lives all around the world. Surely the increase in the number of phones with front cameras played a role, but the selfie trend has also prompted researchers and psychologists to question whether or not this frenzy is just another sign that we have become, as TIME magazine dubbed it, the "Me, Me, Me" generation.
This post by The Guardian was one of many to explore what the rise in selfie-taking teens says about our generation. Some argue that it's just another testament to how self absorbed we have become. I have to admit that it's easy to see why this craze has bestowed us with a reputation as superficial youth with gigantic egos, but there's more to this story.
How can you hate selfies when they resulted in this little gem?
If only Bradley's arm was longer. Best photo ever. #oscarspic.twitter.com/C9U5NOtGap

— Ellen DeGeneres (@TheEllenShow) 3 Mars 2014
Technology is at it again
Obviously technology and the popularity of social media play a role in this phenomenon, although how it plays a role is where opinions diverge. The author of the controversial TIME article, Joel Stein, argues that "technology has only exacerbated [millennials'] selfishness" and "their constant search for a hit of dopamine (someone liked my status update!)." Others like psychologist Pamela Rutledge have argued that selfies fulfill humans' century long urge to self-explore through self-portraits and that we've being doing it since Ancient Greek times. Selfies posted on social media just happen to be the most recent way of doing it. "It's not a big leap to go from a pursuit of self-exploration to the desire for self-portrait," writes Rutledge.
Looking past their obviously superficial characteristics, selfies can also be as much about getting approval from others, as they can about appearance. As Jonathan Freedland puts it in his article for the Guardian: "You post a picture of yourself and wait for the verdict, your self-worth boosted by a happy spate of "likes", or destroyed by the opposite – a resounding silence."
It's just a phase
There are also those who vehemently oppose this attack on our selfie-loving generation. This article by The Wire and a blog by Tom Hawking argue that at one time or another, the media and older generations alike have pointed a finger at younger people and labeled them "Generation Me". So if any Generation Ys out there feel offended about being labeled narcissistic, lazy and egotistic, don't worry about it, apparently every generation has gone through this "Me Me Me" phase before. We're not alone! "Basically, it's not that people born after 1980 are narcissists," goes The Wire article, "it's that young people are narcissists, and they get over themselves as they get older."
If this is true, perhaps those who despise our selfie-taking ways will just have to wait until we grow out of it? On the other hand, if we are all about "me me me" and always will be, I guess all that's left to say is #sorrynotsorry.