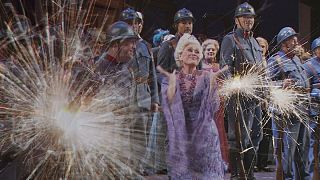 The Royal Opera House, Covent Garden resounded to the words of Happy Birthday for one of its greatest stars. Dame Kiri Te Kanawa celebrated her 70th birthday in what was her first performance for 17 years.
"I always wanted to do it here. I was very lucky that Covent Garden was able to give me this opportunity. I'm really, really thrilled," she enthused.
The New Zealand-born soprano had her international breakthrough at Covent Garden singing the role of Countess Almaviva in Mozart's 'The Marriage of Figaro' in 1971.
Gaetano Donizetti's comic opera 'The Daughter of the Regiment' ('La Fille du régiment') is currently being staged at the opera house.
By a strange coincidence, when she was studying at the London Opera Centre more than 40 years ago, this was the very first opera she saw when she was invited to watch it from Covent Garden's Royal Box.
"Covent Garden at that time was very special. It was very special for me because you know I'd reached heaven and I'm sort of waiting to be kicked out and get down to work, to get back up here again. It was a very special time way back in 1967," she explained, adding the cast in that production was legendary.
"It was Luciano Pavarotti and Joan Sutherland. She was one of my great idols. I idolised her. I didn't know anything about 'The Daughter of the Regiment' and I thought, gosh that tenor is singing a lot of high notes. And I thought, very impressive," she told euronews.
Now Juan Diego Flórez is following in the footsteps of Pavarotti. The Peruvian tenor called the Italian maestro Pavarotti just before his first appearance as 'Tonio' at Covent Garden.
Flórez recalled: "Actually I was in the wings, I was there before my scene and I said to him: maestro, you know I'm going to sing this role and the last one who sung it was you. Just tell me some words: 'Ah you're going to be fine' – because he called me champion – 'Campione, Campione you're going to be fine, don't worry'."
In Laurent Pelly's production, Kiri Te Kanawa appears as the frightful La Duchesse de Crakentorp, normally a non-singing part, but for this special occasion she performs an arietta (a small aria) by Puccini.
"She is always angry because things aren't working her way and she thinks she is above every body and certainly grander then any body else and every one else is beneath her. She is one of those horrible people that you never really want to meet at any time," she said of the character she was playing..
Besides her career on stage, Kiri Te Kanawa has put her heart and soul into supporting young talent.
"I have had an amazing career. I would like them to have the same. The world of opera is different today. The study is harder. When we are mentoring, and when we are funding these young people, the reward is their success. That's all I want is success for the young people," she concluded.
In this edition of Musica you can hear abstracts from:
Gaetano Donizetti: 'La Fille du régiment'
Giacomo Puccini: Edgar: 'O fior del giorno'