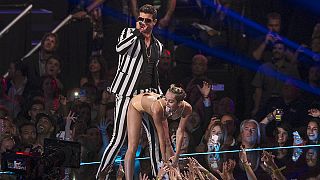 The much anticipated MTV Video Music Awards were held on Sunday night in Brooklyn and crowds of screaming fans were not left disappointed, with costumes and controversy offered up in equal measure.
Setting the tone for the night, the show was opened by Lady Gaga who performed her new single "Applause" in a series of outfits ranging from a square nun's habit to a bikini thong. Her appearance was a little tame by Gaga standards, with no meat-suits or gun-bras to be seen.
Taking over the role of 'most shocking act' was Miley Cyrus (pictured above). The former Disney Channel actress, who took to the stage with dancing teddy bears before stripping off to a nude bikini where she 'twerked' to her new song "We can't stop". Cyrus' previous good-girl image was finally put to rest when she appeared to give co-singer Robin Thicke a lap dance and made lewd gestures with a foam hand.
The raunchy performance certainly seemed to shock many members of the public and seconds later the talk of Twitter was this photo, claiming to show actor Will Smith and his family reacting to the performance.
Will Smith's Family Reacting To Miley Cyrus Is Perfect http://t.co/z9OGMdehOXpic.twitter.com/6vJjwvPmLU

— BuzzFeed (@BuzzFeed) August 26, 2013
UK heart-throbs One Direction picked up an award – dubbed a Moonman – for best song of the summer, but they seemed to be booed by some of the audience. This could have been something to do with the reaction of Taylor Swift, band member Harry Style's ex-girlfriend, who seemed to mutter "Shut the f**k up" while the band collected their trophy.
Kanye West did not storm any stages this year but he did sing his latest new tune from album "Yeezus" in a haunting performance that featured Steve McQueens' lynching tree. The single "Blood on the Leaves" samples Nina Simone's 1965 jazz cover of Billie Holiday's 1939 recording "Strange Fruit," a song heavy with commentary on slavery and racism.
Hip-hop artists Macklemore & Ryan Lewis won the award for Best Video with a Social Message for their song "Same Love". The song has become an anthem for LGBT rights and while collecting his award Macklemore said: "Out of every single song that I have ever written, to me this is the most important record out of all of them…Gay rights are human rights, there is no separation."
Justin Timberlake picked up the big prizes including Video of the Year and Best Male Video. He wowed fans with a medley of his biggest hits and then surprised audiences by reuniting with his ex-band mates 'NSync for a one-time only comeback performance. The singer and actor also received a life-time achievement award for his contribution to MTV culture. While receiving the Moonman he said: "Half of the Moonmen I've ever won, I won with those four guys right there…So above all else, I'm going to share this, we can keep it my house, but I'm going to share this award with them."