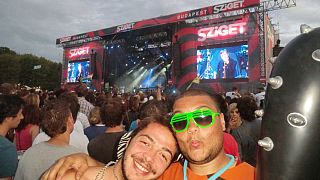 It is hard to tell exactly when Sziget, one of the largest music and cultural festivals in Europe, actually begins: in recent years organisers have used 'minus' and 'zero' days. Nevertheless on August 5, 2013 you can hear the first bars of music bellow from Óbudai island in the Danube in the north of Budapest. On that day a tribute concert will be held for a Hungarian singer, Cipő, who died this year.
The week-long festival has grown from a relatively low-profile student event in 1993 to become one of the biggest European rock festivals. The 2011 edition won the European Festivals Award in the category Best Major European Festival in early 2012.
On Tuesday, August 6 there will be two major concerts: the folk group Muzsikás celebrates its 40th birthday, while one of the best Hungarian alternative bands, Quimby, will "set the main stage on fire".
On Wednesday after the Berlin-based punk band Die Arzte you can hear Nick Cave and the Bad Seeds on the main stage. On the world music stage, Csík group will perform and on the Hungarian music stage you can relax with Zagar after midnight.
On Thursday one the best fresh British live groups, Biffy Clyro, performs on the main stage. On the A38 stage, among others, will be Bad Religion. On the world music stage Pannonia All Stars and Rachid Taha will take their turn to get the crowds grooving.
On Friday British alternative rock band Blur is one of the big attractions on the main stage. On the world music stage you can hear film director Emir Kusturica with his No Smoking Orchestra.
On Saturday on the main stage Editors and Mika from the UK will play, while Russian group Leningrad performs on the world music stage. On the A38 stage you can hear Icelander Emilíana Torrini.
On Sunday indie rock band Franz Ferdinand and David Guetta will close the program on the main stage, competing for crowds with French singer Zaz nn the A38 stage.
And if that wasn't enough, throughout the whole week of Sziget there will be marching bands, live theatre, circus, street performers and many other activities.
You can find the detailed program==here.==
Get ready to rock at Sziget!