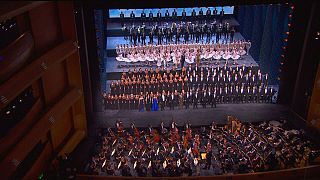 All the big names in Russian opera and ballet performed at a recent gala to open the new Mariinsky Theatre in Saint Petersburg.
Guests were treated to dozens of spectacular pieces including Minkus' 'La Bayadère' and ' La Habanera' from Bizet's Carmen.
The new opera house, Mariinsky II, will be the hub of an ambitious cultural complex among the biggest in the world. It had been longed for by its General Director, the charismatic conductor Valery Gergiev.
"We've got a fantastic opera house," said Gergiev, describing Mariinsky II.
"For our young artists this will be a tremendous opportunity to shine not in two or three years, but maybe three, four, five months. There will be more opportunities to perform. For young ballerinas, for example, [there will be] more performances, which means that the very famous will have many performances, but the young will get more. The newcomers also will get more opportunities, [it's the] same thing for singers," explained Gergiev.
Built just across from its "older brother" Mariinsky I, the new theatre, was designed by a prestigious Canadian architectural firm headed by Jack Diamond.
The renowned architect explained how the design for Mariinsky II came about.
"This is a huge historic city, with amazing consistency of wonderful neoclassical architecture; it's composed of these two extraordinary contrasts – of these whole streets and the exotic churches and cathedrals.
"I would not be guilty of fracturing the wonderful urban consistency of Saint Petersburg. I want that to continue. The way we've accomplished that is to make our own church: the auditorium," said Diamond.
"The building is serious but it's also playful. The whole idea of a sense of occasion is with when you come into the lobbies, all of the fairly extravagant staircases – this is a stage for the audience, they are the performers during the intermission and gathering!
"The architecture of the hall is completely different. The focus is the stage, [but] I want people to feel as comfortable in the auditorium as they do in their own living room," added Diamond.
Spanish tenor and conductor Placido Domingo was a guest at three of the inaugural performances.
"Events have been taking place everywhere for three days. I was lucky enough to be part of the opening gala at Mariinsky II. I also conducted in Mariinsky III and today I just sang in the "ancient" Mariinsky. It's been a great honour, because only a few foreign artists were invited to perform," said Domingo.
"The truth is that even now that I'm leaving I'm looking forward to coming back!" added a smiling Domingo.
The cost of building Mariinsky II was more than 500 million euros. This kind of spending on the arts is vital, according to Diamond.
"This is funded by the central government. To find a country where the government understands the importance of cultural heritage, I think it's very inspiring. We're not animals. What distinguishes us more than anything are the arts, where the human spirit is raised to its utmost is through the arts, and that's understood in Russia," Diamond said.
————————————————————————————————
Valery Gergiev's new opera complex, Mariinsky II, opens its doors in St. Petersburg to the 21st International Festival 'Stars of the White Nights' from 24 May to 28 July.
Some of the world's leading musicians and dancers will be appearing as part of the festival – among them, Anna Netrebko, Joshua Bell, Pinchas Zuckerman, Yuri Bashmet, Ildar Abdrazakov, Alexander Toradze, Magdalena Kožená and prima ballerina Diana Vishneva. There will also be performances from guest ensembles such as the London Symphony Orchestra, Netherlands Dance Theatre, Venetian Baroque Orchestra and Batsheva Dance Company.
Highlights of the White Nights Festival
26 May, Mariinsky II
London Symphony Orchestra perform Berlioz' Symphonie Fantastique and Shostakovich's Piano Concerto No. 2 with soloist Alexander Toradze and conductor Valery Gergiev
3 June, Mariinsky Theatre
Ildar Abdrazakov stars in Verdi's Don Carlos with conductor Valery Gergiev
5 June, Mariinsky Concert Hall
Olga Borodina and Aleksanders Antonenko perform Samson and Delilah by Camille Saint-Saëns, conducted by Valery Gergiev
6 June, Mariinsky Theatre
World's first 3D live cinema broadcast of a ballet performance as Tchaikovsky's Swan Lake is filmed at the historic Mariinsky Theatre and screened directly in cinemas across the globe, in collaboration with Oscar-winner James Cameron
11-16 June, Mariinsky II
Wagner's complete Ring cycle is performed over four days in the Mariinsky II: Das Rheingold on 11 June, Die Walküre on 13 June, Siegfried on 15 June and Götterdämmerung on 16 June
22 June, Mariinsky II
Stravinsky's The Rite of Spring is performed with original choreography by Vaslav Nijinsky, followed by new choreography by Sasha Waltz
23 June, Mariinsky II
Anna Netrebko sings in Britten's War Requiem
While maintaining a robust performance schedule in its existing complex, the various Mariinsky companies simultaneously engage in ambitious international tours, giving performances in some 85 cities across Russia and worldwide. On Monday 4 November, Mariinsky Stradivarius Ensemble will be coming to the UK for a performance at the Barbican's new Milton Court Concert Hall in London. They will be performing Grieg's Holberg Suite, Strauss' Metamorphosen and Shostakovich's Chamber Symphony under the baton of conductor Valery Gergiev.
For more information please contact: info@nickythomasmedia.com and www.mariinsky.ru