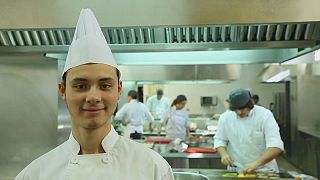 Those suffering most from unemployment in Europe today are the young.
For immigrants, it is even harder to find a job.
Fourteen million Europeansaged between 15 and29 -that's 15 percent of its young -are now part of what has become known as NEETs – people "neither in education, employment, nor training".
Being an immigrant increases the risk of becoming part of this so-called "lost generation".
Twenty one-year old Zeeshan Tariq from Pakistan has been living in the Spanish town of Zaragoza for nine years.He is determined not to become a statistic and has enrolled in a professional training programme for waiters.
"They said they wanted people with training and experience. I am very young, I have neither experience nor diplomas. So I thought it would be better to train and I enrolled in school," Zeeshan tells us.
Topi is a catering school that provides full-time professional training for future cooks and waiters.
The economic crisis has led to growing demand for this kind of training, especially from young immigrants.The school's director, Alfonso Dolset, says nearly half his students are immigrants:
"Thirty five to 50% of our students are immigrants.Being animmigrant is not a criteria for selection, the criteria is the need to find a job quickly," he says.
"Things have changed a lot. Before, as a waiter, you could leave yourjob if you didn't like it and within two days you would find another job,"says 26-year old Diego Vasconez from Ecuador. "But things aren't like that anymore. If you quit your job, it has become very difficult to find another."
He had to wait a whole year beforegetting a place at Topi. There are about 40 places each year.
Most of the training is practical. The school has its own restaurant open to the public. It takes two years to get a diploma as a cook here. Ninety percent of students get a job when they leave.
"Nowadays it is very important to study, it's what matters most," says 19-year old AndreCorrales from Colombia. "They ask you for diplomas even if it is to clean the streets. Things are very difficult at the moment. You have to study a lot otherwise you won't be able to do anything in life."
Most of the students also get a chance to do a traineeship abroad through the EU's Leonardo da Vinci programme, which promotes vocational training in other EU countries.
All three students recently returned from a two-weekapprenticeship at an Italianrestaurant.
"Apprenticeships in foreign countries add a new dimension to their professional career. Some students decide to work abroad after their apprenticeship. So training abroad gives them the extra boost that will help them take the decision to try and give their professional life a new dimension," says Alfonso Dolset.
Despite half of Spain's young people being unemployed, none of our three students want to leave the country.
Their dream is to open their own restaurant, like Raquel, who also studied at Topi.
"My dream is to have my own business, my own restaurant. It is better to work for yourself than for others," says Zeeshan. "I am ambitious and have a lot of will-power, and I know I can do it and that I will make my dream come true in the end."