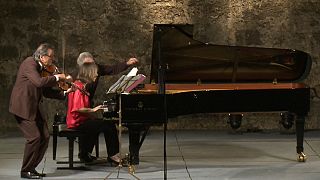 Perched on a hill overlooking the French Riviera, Saint-Paul-de-Vence has long been a haven for artists, including the painter Chagal  the French poet Prévert and movie stars like Yves Montand. In the summer, it hosts a Chamber Music Festival and it is in this setting, pianist Claire Désert and viola player Gérard Caussé performed Schumann's Märchenbilder and Beethoven's Sonata for piano and cello No. 3.
 
Claire Désert, spoke to euronews about her love for the composer's work:  
 
"My heart tells me to go for Schumann because he is the composer to whom I've always felt the closest, the one I've recorded with most. It's a universe that's very special, one of fragility, of passion, which is perhaps why it gets under my skin. This Schuman is the most intimate and passionate."
 
Gérard Caussé took it upon himself to transcribe the piece for the viola: "It is not very long, four movements, that show – as always with Schumann -elements of reverie, or excessive emotion, and it still has that charm of slow melodies, nostalgia, sometimes a bit depressing and then very fast movements, inspired by the movements of a horse "tagadam tagadam", a movement that is altogether horse-like - that was the reference at the time, there was nothing else, the internal combustion engine didn't exist then! 
 
"I transcribed Cello Sonata Opus 69 by Beethoven  and found it extraordinary and it was very frustrating not to be able to play this piece, so I said, I have to transcribe it, (for the viola) and I did." 
 
For Claire Désert, the addition of the viola brings a whole new dimension to Schumann's work: "The viola's pitch brings both a depth and also perhaps a form of harshness and it's that particular 'colour' of the viola that's so original and makes us listen to this music as if it were through a different prism.
   
"The two instruments are on the same level, there is a real dialogue. The romanticism, the lyricism of Beethoven in this third sonata is very clear, very telling," she concluded. 
 
In this story you can hear segments of Schumann's Märchenbilder, op. 113, and Beethoven's Sonata No. 3 in A major op. 69.