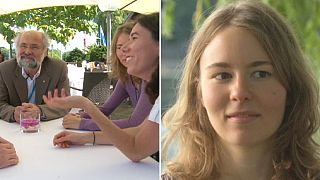 Welcome to Wonderland! That's a bit what it feels like for these four young scientists from Spain and Germany. They are about to meet dozens of the planet's most brilliant minds who have won the Nobel Prize.
Researcher Emma Martins said: "Meeting one Nobel laureate is great, but to think that you are going to meet 27! That is something that I never would have thought possible!"
It is possible – every year: this time, 580 researchers came from all over the world to attend the 62nd Lindau Nobel Laureate Meeting at Lake Constance in Germany.
It is like a giant Petri dish of role models for junior scientists, selected by their universities or other institutions they are working at. There are presentations, panel discussions, discussions in small groups, dinners and lunches – dynamite for brains.
As this year's meeting was dedicated to physics, one of the guests was biophysicist Erwin Neher. So, what is the winner of the 1991 Prize in Physiology or Medicine like? Graduate student Andrea Thamm said, basically: "He's super-nice and a real human being and he answered all sorts of questions."
The four students we followed got their invitations through the European Commission. They are all on a Marie Skłodowska-Curie fellowship, which is part of an EU programme to boost internationally competitive research careers.
Daniel Ramos, for instance, used his grant doing two years of research at Harvard University. He told us about different approaches in the US and Europe.
"In Europe the projects that are sponsored are based on results. You need to provide a result to have a project. Because of that people tend to take fewer risks. My work is based on what is called high-risk science. I don't need to obtain the result that I wanted. I can achieve an intermediate result. In Europe it is complicated to sell this kind of idea and to get public money," Ramos said.
A lake cruise to Mainau island is laid on for the participants. The family of Swedish Count Lennart Bernadotte, who started these meetings, still has a castle there. On the boat,trip the early risers get in touch with representatives of companies whose basic work is to convert research into prototypes and sell them on to industry.
Andrea, who is currently at the international research facility CERN, said: "Technically, in five years I should be done with my PhD and will do post-doctorate work somewhere, but I hope to keep coming back to CERN, because it's the centre of the particle world."
The CERN laboratory dedicated to high-energy physics research is one of Europe's most successful scientific structures. It employs literally thousands of scientists and engineers, full-and-part-time. But making a living as a researcher is not a get-rich-quick scheme. Most work through grants.
Researcher Emma Martins explained: "The first years for a researcher are hard. It's quite a fight, trying to keep your enthusiasm, because you don't really know if there is going to have another contract at the end of your two years."
Lindau is an international forum for topics of global importance. For instance, the scientists discussed the future of energy supply and storage.
Researcher Daniel Brunner was optimistic saying: "I think we will be able to solve the problem of energy supply. There has been a shift in terms of ideology, let's say. Lately, people have become more conscious, and scientists are more encouraged to work on these problems, and these problems are really solvable."
Highly dependent on energy imports, Europe needs that kind of attitude, and that is what the laureates' meeting is about: it is intended to inspire a young generation of researchers to take up scientific challenges.