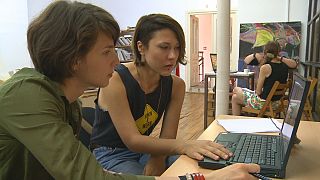 Lea Rasovszky, a 26-year-old Romanian artist certainly looks the part – but as they say the proof of the pudding is in the eating. She is on her way to meet a group of European curators who have come to Sibiu, in Romania to sample her work.
Lea spoke to euronews: "I'm still a young artist. For three years I've been very active and it's really interesting to see how people receive my work from other countries, different mediums, different approaches, so it's a very good experience and also to be with fellow artists, my own age."
Along with Lea, another 20 young Romanians have been selected to present their work to 15 international agents at the Brukenthal museum.
This is thanks to the work of five curators from Poland, Hungary, Romania, Spain and Austria, who, with the support of the European Union, have created a professional "curators' network".
Their goal is to set up links between contemporary art specialists and current artists who do not have the means to make themselves known abroad.
Anca Mihulet, one of the network's founders, is the curator of the Brukenthal museum.
Mihulet told us: "The network is not only about institutions, it's also about ourselves, the young people behind this institution that would really like to go deeper in this profession. So I think generationally speaking when you have a group of young people the dynamic is always different. This network in a creative context just pushes, and pressurises you to always figure out something new."
The first meeting of the curator's network was in Madrid in November. After Sibiu, it is set to got to Krakow, Budapest and Vienna by June 2013.
In every country the network visits, only the finest contemporary art galleries will do.
We joined the team heading for Bucharest.
First stop is a contemporary art museum in the capital, where maybe one day in the not so distant future, our budding artist Lea will be featured. So as an online platform, how does the curator's network actually work?
Borbàla Szalai, a Hungarian curator explains: "It has a database which is growing, where all the curators participate and where the selected artists of our country's upload their profiles."
The curator's network aims to create another side to European art, one that is not so French and German-centric. It is no coincidence therefore that there are no French or German participants in the programme.
Instead it hopes to develop a direct web of contacts between places like Romania and Croatia – bypassing the need to deal with other more artistically established countries.
Borbàla Szalai adds: "We really hope this database will be a platform for searching for others curators from other countries, and probably other countries will join the network, we hope, with their artists as well."
Fingers crossed maybe one of the curators will take a shine to our fledgling artist Lea's exhibition in Bucharest.
"I'm feeling extremely tired and extremely happy at the same time. It's something that comes to an end in a very beautiful way, not to an end but to the closing of a chapter and I'm looking forward to what will come after this," she said.