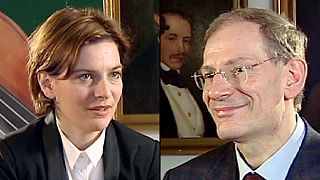 Please find a few excerpts in English from our interview with Albena Danailova, 'concertmistress' of the Vienna Philharmonic Orchestra, and Dr. Clemens Hellsberg, VPO President.
She briefly outlines her successful career and discusses her appointment as the first woman at the head of such a prestigious orchestra.
Dr. Hellsberg explains the fundamental role of the concertmaster, and comments on the so-called 'Viennese sound'.