Ukraine war: At least six people killed in wave of Russian missile attacks across the country
Comments
By Euronews with AFP, AP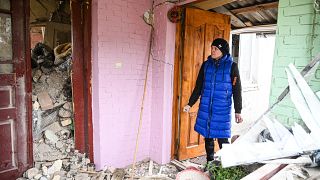 -
Copyright

Yuriy Dyachyshyn/AFP
Russia unleashed a massive missile barrage on cities across Ukraine early Thursday, killing at least six people and targeting energy infrastructure facilities in the first attack on such a scale in three weeks.
Five people were killed in the Lviv region after a missile struck a residential area, according to its governor. Three buildings were destroyed by fire and rescue workers were combing through rubble looking for more possible victims, he said.
Dnipropetrovsk region's governor said a sixth person was killed and two others wounded in multiple strikes in the region that targeted its energy infrastructure and industrial facilities.
Kyiv's city administration said the capital was attacked with both missiles and exploding drones. Many were intercepted but its energy infrastructure was hit. Three people were wounded.  
Overall, Russia launched a total of 81 missiles and eight drones, according to Ukrainian officials.
The Zaporizhzhia nuclear power plant, which is the largest in Europe, is also reportedly "without electricity" after a Russian strike.
The barrage comes as the owner of Russia's Wagner Group military contractor claimed that his troops have extended their gains in the Ukrainian stronghold of Bakhmut.
The battle for Bakhmut has lasted six months and reduced the city with a pre-war population of more than 70,000 to a soldering wasteland.
Russian forces need the city to push further into parts of the Donetsk province they do not yet control. And Ukrainian President Volodymyr Zelenskyy warned that if Bakhmut fell, Moscow would gain an "open road" for offensives deeper into the country.
Western officials say that the capture of the city is unlikely to change the course of the war.
On Wednesday, NATO Secretary General Jens Stoltenberg warned that the city may fall into Russian hands in the coming days.
"What we see is that Russia is throwing more troops, more forces and what Russia lacks in quality they try to make up in quantity," Stoltenberg told reporters in Stockholm.
"They have suffered big losses, but at the same time, we cannot rule out that Bakhmut may eventually fall in the coming days."
The head of the military alliance insisted "it is also important to highlight that this does not necessarily reflect any turning point of the war."
"It just highlights that we should not underestimate Russia. We must continue to provide support to Ukraine," he said.
The attack also came hours after the U.N. Secretary-General visited Kyiv for talks on extending an agreement that allows Ukraine to ship grain from its Black Sea ports and permits Russia to export food and fertilizers.
Meanwhile, the European Union is considering spending €1bn for the joint procurement of ammunition for Ukraine and to refill the bloc's own stockpiles.