Ukraine military won't retreat from Bakhmut despite renewed Russian shelling
Comments
By Euronews with AP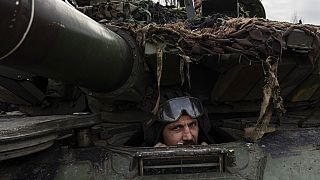 -
Copyright

Evgeniy Maloletka/Copyright 2020 The AP. All rights reserved
Ukraine's military leaders vow to resist Russian aggression in the encroached eastern city of Bakhmut. This is despite a previous message from Kyiv less than a week ago that suggested they could pull out troops to nearby positions.
Seven months since Russia began fighting in Bakhmut, both sides have lost thousands of lives – including many Ukrainian civilians.
But Ukrainian President Volodymyr Zelenskyy's office said Monday that he chaired a meeting in which top military brass "spoke in favour of continuing the defence operation and further strengthening our positions in Bakhmut."
His top adviser, Mykhailo Podolyak, told The Associated Press that Ukrainian forces around Bakhmut have been grinding down enemy forces, reinforcing their positions and training tens of thousands of Ukrainian military personnel for a possible counteroffensive.
Bakhmut has limited strategic value for the Kremlin and the battle to take the city is mostly a symbolic political prize. Moscow however is determined to pour more troops into the fight for Bakhmut.
Intense Russian shelling targeted the Donetsk city and nearby villages on Monday. Moscow pressed a three-sided assault to try to finish off any resistance.
Nearby towns such as Chasiv Yar and Kostiantynivka also came under heavy shelling, damaging cars and homes and sparking a fire. No casualties were immediately reported.
For Kyiv, the display of grit and defiance reinforces a message that Ukraine's resistance is strong after a year of relentless attacks. This view was reinforced by US Secretary of Defence Llyod Austin, who said during a visit to Jordan that Bakhmut has more of a "strategic and operational value".
Some analysts however question the wisdom of pressing the Ukrainian defenders to hold out much longer. Others suggest that a tactical withdrawal may already be underway.
Michael Kofman, the director of Russia studies at the Centre of Naval Analyses think tank in Arlington, Virginia, tweeted that Ukraine's defence of Bakhmut has been effective because it has drained the Russian war effort, but that Kyiv should now look ahead.
The Institute for the Study of War, a Washington-based think tank, noted that urban warfare favours the defender but that Kyiv's smartest option now may be to withdraw to positions that are easier to defend.
In recent days, Ukrainian units destroyed two key bridges just outside Bakhmut, including one linking it to Chasiv Yar along the last remaining Ukrainian resupply route, according to UK military intelligence officials and other Western analysts. Demolishing the bridges could slow the Russian offensive.