Which countries are sending heavy weapons to Ukraine, and is it enough?
Comments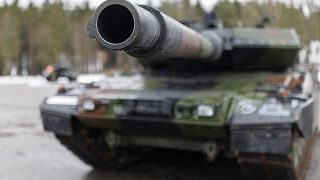 -
Copyright

Daniel Karmann/(c) Copyright 2023, dpa (www.dpa.de). Alle Rechte vorbehalten
Ukraine's President Volodymyr Zelenskyy's arrival to Europe in early February came with a clear message for his allies: give us combat aircraft and heavy weapons, and don't delay.
"The sooner Ukraine can get powerful, long-range weapons [...] the sooner this Russian aggression will end and we will bring peace back to Europe," he said in a joint statement with French President Emmanuel Macron and German Chancellor Olaf Scholz in Paris on 8 February.
But the decision to provide Ukraine - which is not a NATO member and thus is not protected by collective defence enshrined in Article 5 of its founding treaty - with heavy weapons is fraught with potential problems, as countries weigh up supporting Ukraine militarily against concerns of potentially escalating the conflict.
So, which countries are sending heavy weapons to Ukraine? And are they doing enough?
What are countries sending?
The US, UK, Poland and Germany have spent the most military support for Ukraine, according to the Kiel Institute for the World Economy's Ukraine support tracker.
The same data shows that the United States is clearly leading the way, having pledged €44,3 billion since January 2022.
"The United States has led by far, it's not even close," said Brad Bowman, Senior Director at the Foundation for Defense of Democracies (FDD). "And, I think that, combined with Ukrainian bravery and agility, is the reason why Ukraine continues to exist."
The UK is the second-largest provider of military support to Ukraine, according to the Kiel Institute.
Data shows that the UK has supplied a wealth of rockets, defence systems, armoured vehicles, weapons, ammunition and training to Ukraine over the last year, to the tune of €2.5 billion. On 14 January 2023, the UK became the first country to provide Ukraine with Challenger 2s, the main modern western battle tank.
According to data from the Kiel Institute, Poland, which shares its eastern border with Ukraine, pledged €2.4 billion in military aid last year. Germany also exported over €2.4 billion in military goods.
"I would point to the Poles as playing a particularly-laudable role. I would point out the Baltic countries as playing a very positive role. You know, big surprise right there on the eastern flank of NATO, they're closest to the Russian bear, and so they have no illusions about our adversary there", said Brad Bowman.
While not a big spender compared to the likes of the US and UK, Estonia is, however, the top provider of defence and humanitarian aid, they have spent around 1.1% of their GDP.
Indeed, Estonia's Prime Minister Kaja Kallas has said that "If Ukraine fell, freedom would also be in danger in other parts of the world. By helping Ukraine to defend its independence, we are defending the right to freedom and democracy of all countries, including Estonia."
In 2022, Poland and Estonia were reportedly seeking to raise the alliance's defence spending benchmark from 2% to 2.5% or even 3% of member countries' GDP.
Are NATO members sending enough?
The US, the UK and Germany are sending tanks, and Germany has allowed other Western countries to send its homemade tanks from their fleets, but this doesn't appear to have silenced Kyiv's call for heavy weapons.
Ukraine has urged the West to provide fighter jets to defend the country against Russia. On his visit to the UK last month, Zelenskyy asked Prime Minister Rishi Sunak to "give us wings."  And, US President Joe Biden has already "ruled out" sending the highly sought-after F-16 fighter jets to Ukraine.
"The F-16s could provide a number of benefits, of capabilities for Ukraine, no doubt. The response the Biden administration is giving is that's not what they need most right now. I agree with that," Brad Bowman told Euronews.
Instead, Bowman stressed that NATO allies could be doing much more in terms of fulfilling their defence spending pledges. 
"I would just quickly point to [...] the most recent report on defence spending by NATO. We still, at this late hour, have most of our European allies not honouring their defence spending commitments. I mean, come on, that's deeply disappointing," he told Euronews.
"I'm not a reflexive critic of Europe here, but I mean, come on: the largest land invasion in Europe since World War Two; a major assault on a European capital; tens of thousands of people being murdered and killed in an unjust war trying to defend their homes and you're not going to honour your defence spending commitments? [...] We don't have the logistics here. Here, Ukraine, here are four tanks. Oh, here are eight tanks. Here are 12 tanks. They need hundreds of tanks!"
Are heavy weapons arriving quickly enough?
In February, the Biden administration pledged to send the Ground Launched Small Diameter Bomb, or GLSDB, a system with a far greater range than Ukraine's Western-supplied artillery rockets.
However, these weapons are not expected to arrive until autumn and experts fear this will be too late as key Russian and Ukrainian offensives are expected and could determine how the war will play out.
"A lot of countries, including the United States […] have done what we call 'the cheque's in the mail' approach: hey, we're going to send this or that. And in a lot of cases, the item in question will not arrive until four months later," Bowman explained.
"If you're a Ukrainian fighting on the front lines, seeing your buddies getting killed and maimed […] the 'cheque's in the mail' approach is probably particularly dissatisfying for them […] especially when they understand that they literally are on the frontier of freedom, fighting for all of us."
Fear of provocation
In a speech to the Bundestag on 25 January, Chancellor Olaf Scholz announced that Germany would finally send 14 Leopard 2A tanks to Ukraine and would also allow other countries to re-export theirs if they wished to do so.
Berlin was initially hesitant to pledge heavy weapons deliveries, citing concerns about potentially escalating the conflict. It chose instead to offer non-lethal equipment, like combat helmets. 
It was heavily criticised for this, notably by President Zelenskyy. There was also pressure from fellow European neighbours, such as Poland, to approve the re-export of Leopard 2 tanks to Ukraine.
Bowman made reference to Ukraine's former President Petro Porosheko's 2014 visit to the White House to ask then-President Barack Obama for weapons to fight Russia-backed separatists in Crimea.
In a speech to the US Senate and House of Representatives, he said "Blankets and night-vision goggles are also important. But one cannot win the war with blankets."
"He was saying that because the Obama administration refused to provide weapons to Ukraine. Why? Why? Because we didn't want to provoke Putin," Bowman explained.
"So my core message to anyone willing to listen is that we should spend more time helping build beleaguered democracies and less time worrying about provoking authoritarian bullies who are probably going to invade anyway."