Estonia Independence Day overshadowed by Russian invasion of Ukraine
Comments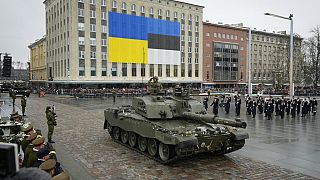 -
Copyright

Sergei Grits/Copyright 2023 The AP. All rights reserved
The spectre of Russia's invasion of Ukraine hung over ceremonies marking Estonia's Independence day.
The European Commission President, Ursula von der Leyen and Nato's Secretary General, Jens Stoltenberg, were in Tallinn for the event.
It was a gesture of support for the former Soviet state. They both stressed the importance of supporting Ukraine.
They joined Estonia's Prime ?inister Kaja Kallas at the solemn flag-raising ceremony at Tallinn's Toompea castle, laid wreaths at the War of Independence Victory Column, and attended the annual military parade in Freedom Square.
"We must keep giving Ukraine the means to defend itself until the Russians end this war and leave Ukraine," said the EC president, "and this is why we stand firmly by Ukraine as determined as ever, to support Ukraine, financially, economically, and militarily"
Jens Stoltenberg added: "Some worry our support to Ukraine risks triggering escalation. But there are no risk-free options. And the biggest risk of all is if President Putin wins."
Estonia and its Baltic neighbours Lithuania and Latvia have been among Ukraine's strongest supporters since Russia's invasion.
Estonia declared its independence from Russia on 24 February 1918, but the small country of 1.3 million was incorporated into the Soviet Union in 1940, and, with the exception of Nazi German occupation from 1941-44, remained part of it until 1991.