Gastronomic cuisine in Tokyo, with two of Japan's top chefs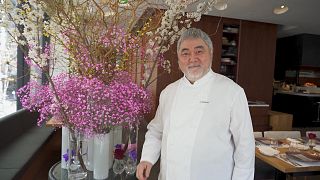 If you come to Tokyo, you'll enjoy gastronomy from all over the world. In these portraits, we look at the inspiration driving two of Japan's top chefs.
Kiyomi Mikuni
Hello, I'm a French cuisine chef.
My name is Kiyomi Mikuni.
I was working in Europe and the three-star chefs were all using local vegetables, from local producers and the characteristic of my cuisine has been influenced by this. And I express this by using Tokyo ingredients and vegetables from Tokyo as the main ingredients.
The area where my restaurant is located, Marunouchi Brick Square, is very special and surrounded by a lot of big buildings. You have the area's only park in the courtyard.
When I was 18, I started working at the Imperial Hotel Tokyo, washing pots.
I used to go to this ramen restaurant called Houran, five minutes' walk from the Imperial Hotel.
I go there all the time. It's been open for almost 50 years. I love this place.
It's excellent!
During my days off, I enjoy Tsukiji market.
I like to look at the knives and the ingredients. But the most interesting thing is to check the seasonal products and to taste them.
Today, there's tuna! Domestic tuna! I want to buy it. It melts in the mouth like butter. It's good!
I would describe Tokyo as a delicious, fun, beautiful, modern and very exciting city.
Yusuke Nomura
Hello, I am Yusuke Nomura. Chef of the Michelin two-starred Shojin cuisine restaurant Daigo, in the Toranomon area of Tokyo.
Daigo was founded by my grandmother Yoshiko Nomura in 1950. I'm working as the fourth-generation chef.
The Shojin cuisine is centred on vegetables. Based on the teaching of Buddhism, it's based on not wasting food and cooking with consideration. It's also said to be good for health.
Next to the restaurant, there is a temple called Seishoji. When I have doubts in my cuisine or life, I go there to get spiritual support, to get answers.
Building lotus-flower-shape skyscrapers or admiring the landscape of the Tokyo Tower from there, that kind of fusion between tradition and innovation also gives big inspiration for my cuisine.
During my days off, I like to walk in Shibuya.
What I like about Shibuya is that the ideas of edgy young artists in all genres, such as digital, architectural design and music, accumulate and continue to challenge themselves.
In Shibuya, I'm also involved in a new project, a sauna.
I am using the know-how from Shojin cuisine to produce some familiar vegan meals for young people, such as curry and ramen.
Tokyo is a very cultural city. A city that can stimulate every visitor.