US Secretary of the Treasury Janet Yellen pledges an additional €1 billion to Kyiv
Comments
By Euronews with AFP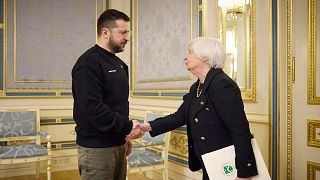 -
Copyright

Ukrainian Presidential Press Office via AP
Following the surprise visit of US president Joe Biden last week, US Secretary of the Treasury Janet Yellen visited Kyiv Monday as part of a mission to extend economic support for Ukraine.  
The United States is sending more financial aid to Kyiv – to the tune of almost €1 billion.
Washington has proven to be a key financial and military backer, providing the war-toen country with nearly €47 billion in assistance over the past year.
Yellen expressed that this was the first tranche of an additional €10 billion that the United States will send to Kyiv in the coming months.
"Our economic support is helping keep the Ukrainian government and critical service providers operating under extraordinary circumstances," including by paying civil servants, firefighters, and teachers, she said. 
In her speech, Yellen outlined that Washington stressed the importance of good governance, adding that more "transparency and accountability will become even more important as Ukraine rebuilds its infrastructure and recovers from the impacts of the war".
Ukrainian President Volodymyr Zelenskyy thanked Washington for "powerfully supporting us since the first days of this war not only with weapons, but also on the financial front".
Bakhmut surrounded according to Russian sources
Meanwhile, Ukraine is warning that the situation around the frontline hotspot of Bakhmut is getting increasingly difficult.
Zelenskyy says Russian forces are destroying everything that can be used to protect Ukrainian positions. Drone footage appears to back up that case, showing the Donestk town battered and in ruins.
Taking Bakhmut would be a major win for Moscow but analysts say its capture would be mainly symbolic as the salt-mining town holds little strategic value.
Speaking on Russian television on Monday, Denis Pushilin, the leader of the self-proclaimed Donetsk People's Republic, said that all roads leading into Bakhmut were "under fire control" of the pro-Moscow forces.
Previous claims of Bakhmut's capture by Moscow have been disputed by Kyiv, who say Ukrainian resistance is still strong in the town.
Watch the video in player above.