View Q&A: The war will be Ukraine's modern creation myth, says Ukrainian historian
Comments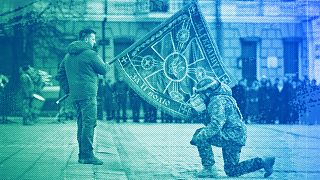 -
Copyright

AP Photo/Euronews
The opinions expressed in this article are those of the author and do not represent in any way the editorial position of Euronews.
On this day last year, Russia embarked on full-scale aggression against its neighbour, resulting in massive devastation and the deaths of tens of thousands across Ukraine. 
Amid horror and disbelief, millions of Ukrainians had left their country in what has been described as the worst refugee crisis in Europe since World War II.
Ukraine, aided by its allies in Europe and the West, has managed to resist and push back the invading force from large swaths of its territory. 
Yet, one year later, the war continues amid further threats from Moscow and no apparent desire by Russian President Vladimir Putin to end the aimless devastation and bloodshed.
Euronews View talked to Ukrainian historian and professor at the University of Marie Curie Sklodowska in Lublin Georgiy Kasianov about the societal changes that Ukraine has experienced over the past year, the Kremlin's ever-changing narrative, and how our continent might remember the war once it is over.
Euronews View: One year later, what do you make of Russian President Vladimir Putin's now infamous speech on the eve of the full-scale invasion of Ukraine?
Georgiy Kasianov: The tone and the content of his speeches changed over time and over the course of the events of the past year. In the speech he delivered initially, on the eve of the invasion, he was quite enthusiastic about his claims. 
Several months later, at the Valdai Forum in September, he reiterated his claim about Russians and Ukrainians being the same people. When asked by Fyodor Lukyanov, the director of the Valdai Club, "So does that mean you're waging a civil war?" he agreed with him.
So while Putin continues to claim everything is fine and going according to his plans, the reality is the polar opposite. Everything has developed in exact opposition to his plans. Kyiv has not been taken, and definitely not in a week as they planned. 
They failed to establish full control over the territories they invaded or attempted to invade. They expected Blitzkrieg and they failed, so Putin is the ultimate loser in this case. He got about 20% of the territory of Ukraine, but he is nowhere close to encircling the entirety of the regions they want to occupy.
A year ago, they underestimated Ukraine. They believed it to be a failed state and that people are not happy with it. Russia misunderstood Ukraine and believed it to be a classical national state or one-nation state. 
Ukraine, in fact, has an extensive horizontal society and links between citizens and different groups, which makes it much more durable. The government itself also proved to be more effective than they expected. 
The third factor, of course, is the massive support that appeared almost immediately from the West. 
His discursive strategy is to keep repeating the same things over and over again and hope that nobody will realise or pushes back on his lies or the challenges that he faces.
Euronews View: What are the shifts that Ukrainian society has experienced over the past year?
Georgiy Kasianov: Well, the primary emotion a year ago was shock. I don't think the majority expected that Russia would actually attack Ukraine on this scale, for many, including myself. We experienced pure shock.
The biggest shift, of course, was the immense scale of migration that was launched by the war. Around 18 million people left the territory of Ukraine. 
But by February of this year, around 10 million have come back. This means that Ukrainians, those who left the territory of the country, believe in the country and want to come back to the country.
It is interesting that when talks were underway for Ukrainian citizens to be granted visa-free travel, and it was even reflected in the TV series that President Volodymyr Zelenskyy starred in before assuming office — there is a scene where the entire country is empty. So people speculated that everyone would leave Ukraine. 
However, we see that even during times of war, Ukrainians want to come back. This is an extremely significant signal to everyone that Ukrainians want to live in their country and wants to defend it.
Another important element is the extremely high level of internal mobilisation in the country and in society. The volunteer movement includes tens of thousands of people who help the Ukrainian army in any way possible.
I would be hard-pressed to think of any previous moment in Ukrainian history when such a level of societal mobilisation was achieved. It's simply unprecedented.
The belief before the invasion was that Ukrainian society was atomised and that people did not trust each other. In fact, under conditions of external pressure, the complete opposite turned out to be true.
And finally, while everyone expected a certain level of fatigue regarding the war, and there is a bit of that, Ukrainians have actually largely adapted to the conditions of living under war. The way people have adjusted is remarkable.
Euronews View: How will Ukraine and the rest of Europe remember the war once it is over? As someone who specialises in memory politics, how does or will this war fit into that?
Georgiy Kasianov: It is a bit early to firmly be able to predict that, but we are witnessing the creation of a new image of Ukraine. 
It is no longer a failed country, it is able to defend itself, and it showed an internal strength and ability to organise for its defence at both a societal and government level. 
In the future, the war will serve as a foundational myth of Ukraine as a country that survived a war many are comparing to World War II. While the scale of the war is not identical to WWII in terms of the intentions of the aggressor, they are similar — the intention is to eradicate or erase a population. Now we know for sure it will not happen. 
This will be the new historical constitutive myth for the country, and it will be based on the self-sufficiency and strength shown so far.
Euronews View: Do you think Russia will ever be able to overcome the position it currently finds itself in, as in that of an aggressor and of Europe's pariah state?
Georgiy Kasianov: I think that in the nearest observable future, Russia will find ways of establishing links with certain structures in Europe and perhaps even in the United States. They have ways of bypassing sanctions, for example. 
But if we go back to Putin's speeches, he recently started playing the role of the defender of the global South against the evil West. While this isn't an entirely new positioning of Russia in the world when it comes to being opposed to the West. 
However, this rhetoric focused on Africa and Asia, and the specific role of Russia in defending the interests of the global South — which was articulated at the Valdai Forum and Putin's meeting with historians — is partially new. 
It isn't entirely new because the Soviet Union played this role in the past, supporting various pro-communist or quasi-communist regimes in the world.
So Russia wants to play this role again. This means that they will probably try to move away from European and Euro-Atlantic targets to ones to the East and to the South.
Euronews View: Do you think Russian society itself can escape Putin's orbit? There's this belief that once Putin is gone that Russian society will finally be freed and will completely change from what it is today.
Georgiy Kasianov: It might be a realistic scenario from a longer perspective; but in the near future, I do not expect Russia to change drastically. 
Russia is going into self-isolation when it comes to the West, and values that stem from the West, such as freedom of speech and democracy, have now been denied. 
It is turning into a purely anti-Western and anti-democratic society — and this is not the result of just one person. 
If you look at the sociological polls in Russia, for instance, when Russians were asked what they were proud of, around 80 or 90% did not indicate that they were proud of, say, the army or the economy or culture. They were proud of their history. 
But what kind of history is taught in Russia? It is a history that is proud of its empire, its expansion, and of taking new lands.
So changing this on a wider level in Russia is not going to happen in one or even ten years. I'm not enthusiastic about quick changes in the psyche or the worldviews of most people. Quick changes will only happen if there's a revolution and if Russia decomposes into several parts. But I don't see signs of this happening.
Of course, history is unpredictable. Anything can happen. But this is a very big country with differing civilisational legacies, and the only way it can exist as one is as some form of autocracy.