Ukraine war: A year on, refugees in Czech Republic strive to integrate but miss home
Comments
By Jiri Skacel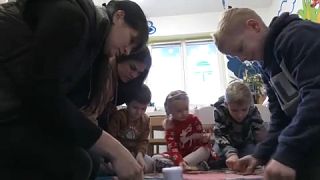 After the invasion of Ukraine by the Russian army in February last year, over 460,000 refugees were registered in the Czech Republic.
It is mainly women and small children who need to be taken care of. Today there are about 300,000 of them and the Czechs are welcoming them.
Campus accommodation
Most of them still live in hostels or on college campuses like the campus of Charles University in Prague. They live in rooms of two or three and use a common kitchen and social facilities.
Liudmyla Pohretska, a teacher from Kharkiv, lives there with her 13-year-old daughter Yulia.
"This is my place, this is hers," she shows us. "We have in principle all we need."
Liudmyla takes care of children from 3 to 12 years old after they come from Czech school.
"We have textbooks in the Ukrainian language so we can help children who are still learning online in Ukrainian schools," she explains.
The aim is that children not only retain their mother tongue, culture and customs, but also that they can better integrate into a new society.
"It makes us forget for a while what's happening at home," says Liudmyla. "Even if it's not quite possible. We appreciate all the more the happiness of being here."
Depression is an issue. The People in Need association provides refugee services.
"Studies show that about 45% of adults have manifestations of moderate or severe depression," says Migration Program Coordinator Jakub Anderle.
Host families
Many refugees live in Czech families. That's the case of Nataliia Slobodianyk and her sons Maksym and Nazar who have just received their diplomas. They are enjoying their time in the Czech school and are learning Czech well.
"It is not a big place but cosy, warm and quite practical for us," says Nataliia. "For some time it's quite good. We feel comfortable here and that's the main thing."
"I like to play football with my mates or play with Lego or cards," says Maksym.
"After dinner we are cleaning teeth, taking shower and going to sleep," says Nazar.
Hana Hillerova-Harper has been helping Ukrainians as a volunteer since the beginning of the war. She offered Nataliia a place to live and they became friends.
"I am very thankful to the Ukrainians that they really did open up our hearts," she says. "Made us be the best version of ourselves by being accommodating and helpful. This is the first wave of refugees that the Czech society really helped."