Refugees in Western Ukraine hope to go home soon
Comments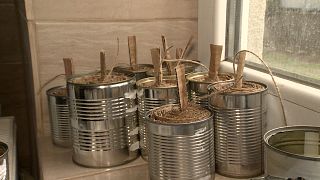 -
A camouflage net is being made for the army by refugees from Eastern Ukraine living in, Transcarpathia, in western Ukraine on the border with Hungary.
They want to play their part in the joint effort while waiting to get home.
Their life is tough and power cuts are frequent.
Edit Zsábej, a volunteer at the Hungarian Catholic Caritas, has been trying to help them. 
"The last time we were here, I saw people cooking outside because there was no electricity, just like now. The generator is not enough for the kitchen stuff, and so we thought we'd help them, so that they can cook in bigger pots so that everybody can be fed," said Edit.
The rooms are shared by several families. Marina came from Kharkiv in April. Her eight-year-old son found it hard to accept that he had lost his home and his toys. Marina thinks children like her son will never forgive Russia.
She explained, "the children could tell by the sound whether it was ours or the Russians shooting. Whether it was a rocket, some other kind of projectile, or a plane coming."
Svetlana lives in another room with her two children. One of them had just received her Christmas present, an e-book reader to help her with her studies. Svetlana doesn't see them going home anytime soon.
"The good thing is that here you don't hear the awful voices and you don't get bombarded. Children can walk the streets in peace, they are safe," said Svetlana.
Refugees are helped by mental health professionals to process the trauma they have experienced and to accept their new life situation.
Euronews reporter, Ádám Magyar, explained how they are finding accomodation.
"This building used to be a school for children with special needs and has been empty for a few years. Refugees from Eastern Ukraine can find shelter in places like this. It's not yet known how long they will stay, but we met one who said he wanted to go back to Kharkiv in the spring."
To watch the full report click on the player icon above.