Body of missing woman Nicola Bulley found after three-week police search in England
Comments
By Euronews with AP, AFP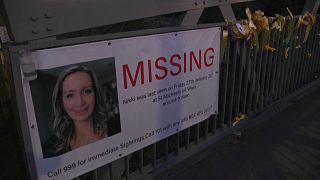 Police have confirmed that a body found in a river was that of missing woman Nicola Bulley, whose disappearance had sparked massive media speculation and questions over the police investigation.
Bulley, 45, was last seen walking along the River Wyre in northwest England on January 27 shortly after dropping her two daughters off at school.
The mortgage adviser's phone was found on a bench still dialled in to a work conference call, and her dog was running loose on the riverbank near her home village of Saint Michaels on Wyre.
On Monday Lancashire Police said in a statement read out to media in the nearby town of Preston: "Sadly, we are now able to confirm that yesterday we recovered Nicola Bulley from the River Wyre," adding that the case was now being handled by the coroner.
The announcement of the identification was not unexpected after police said Sunday that they had found a body and informed her family.
"You have been found, we can let you rest now," Bulley's family said in a statement read out to journalists by Detective Chief Superintendent Pauline Stables.
They criticised the media, saying they would have to tell Bulley's children, aged nine and six that "the press and members of the public accused their dad of wrongdoing, misquoted and vilified friends and family".
"This is absolutely appalling, they have to be held accountable, this cannot happen to another family," they said, appealing for journalists to respect their privacy.
While Lancashire Police appear to have been vindicated after saying from the start that Bulley was most likely to have fallen into the river, their handling of the case has prompted stinging criticism and accusations of victim-blaming.
Police revealed personal details about Bulley's drinking and state of mind, in a bid to explain her "vulnerabilities", without her family's knowledge.
Interior Minister Suella Braverman had asked police for an explanation as to why they released the information.