Munich Security Conference: President Zelenskyy repeats call for more weapons
Comments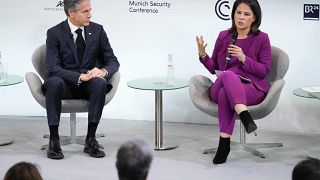 -
Copyright

Petr David Josek/Copyright 2023 The AP. All rights reserved
 At the Munich Security Conference, Ukraine once again insisted what it needs is more weapons and ammunition to continue to confront Russia.
The US and Germany are increasingly convinced this is the way forward, although Berlin is also prepared to listen to China's peace programme for Ukraine depending on what kind of peace Beijing is proposing.
"If Russia stops fighting, and we hope this is a plea from China next week when they propose their peace programme - that they call on Russia to stop fighting! Because then this war is over," German Foreign Minister Annalena Baerbock told the conference. "But if Ukraine stops defending itself, and this could be another plea, then Ukraine is over. And we cannot accept this, because then the charter of the United Nations is also over."
US Secretary of State, Antony Blinken, also drew attention to the damage Russian President Vladimir Putin is inflicting on his own people.
"We now have by public accounts something like 200,000 Russian casualties in Ukraine," said Blinken. "Think about that for a minute. In less than a year we have more than a million Russians who have left their country because they do not want to be a part of this war and the direction that the country is being taken in."
Also high on the conference agenda was the entry of Sweden and Finland into NATO, which is fully supported by the US but blocked by Turkey.
Since they broke with decades of non-alignment in the wake of Russia's invasion of Ukraine last year, Finland and Sweden have insisted they want to join NATO together.
But Turkey's reluctance to accept Sweden unless it steps up pressure on Kurdish exile groups has made it more likely the two will have to join the alliance at different speeds.
Outside the conference venue, a number of protesters held up placards urging negotiation over Ukraine instead of fighting.