French doctors in Turkey set up temporary field hospital after deadly earthquakes
Comments
By Euronews with AP & AFP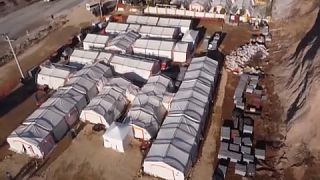 As Turkish hospital wards struggle to cope after the February 6 earthquakes, a team of French doctors and emergency workers have set up a relief hospital in the town of Golbasi to cope with the after-effects of the disaster and attend to patients who have run out of medication. 
One Turkish-born French soldier and firefighter who travelled from Marseille said, "as a French person I am proud that France can help my native country. What is happening is very sad, we are doing our best to facilitate the daily life of the local population and to bring as much help as possible and be as efficient as possible".
Turkey's disaster management agency, AFAD, has raised the number of deaths in Turkey from the magnitude 7.8 and 7.5 quakes that struck nine hours apart to 36,187. That pushed the combined death toll for Turkey and Syria to over 41,000.
Meanwhile, a group of young volunteers have been dispensing free treatment and advice to survivors in Antakya from a car park attached to a destroyed public health building.
The goal is to keep the health and sanitation situation manageable until more government help and international humanitarian relief arrives.
There are more than a dozen similar temporary pharmacies and medical setups across the affected region.
The service said it had seen more than 1,000 patients a day in Antakya who had been unable to visit their usual dispensary since last week's earthquake.
"A lot of people here are elderly, who didn't want to leave," said Doctor Onur Karahanci from the Turkish Medical Association.
"They have a lot of diseases... especially hypertension and psychiatric diseases, diabetes too which is widespread," he said.