NATO members hope to accelerate the supply of arms to Ukraine
Comments
By Euronews with AP, AFP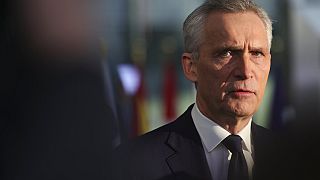 -
Copyright

Olivier Matthys/AP
NATO defence ministers and its allies met in Brussels to boost arms supplies to Ukraine, as Kyiv calls on its western powers for fighter jets and Russia begins its much-anticipated spring offensive.
"This has become a grinding war of attrition and therefore it's also a battle of logistics," NATO Secretary General Jens Stoltenberg said.
"This is a huge effort by allies to actually be able to get in the ammunition, the fuel, the spare parts, which are needed."
Since the start of the war last February, Ukraine's allies have supplied billions of euros in military aid to help Kyiv's forces.
Moscow's forces have been pressing in the east of Ukraine while bolstering their defensive lines in the south.
Russian President Vladimir Putin was hoping Western support for Kyiv would phase out, allowing him to move ahead in the fighting, US Defense Secretary Lloyd Austin said during the NATO meeting.
He added: "today's meeting comes at a critical time. The Kremlin is still betting that it can wait us out."
Kyiv's calls for fighter jets
During a whirlwind European tour, Ukrainian President Volodymyr Zelenskyy called for his allies to supply his country with fighter jets after some of them pledged to provide Kyiv with tanks.
But the possibility of sending fighter jets to Ukraine is still being discussed. While the United States has refused the request, the United Kingdom has said that it will assess the idea. And on Tuesday, Dutch Defense Minister Kajsa Ollongren said giving Ukraine jets "has to be part of the consideration."
Stoltenberg said the alliance must ensure Ukraine gets the military aid it needs to "retake territory, liberate lands, win this war and prevail as a sovereign, independent nation".
He added that the alliance has "seen the start" of a predicted Russian Spring offensive. "For me, this just highlights the importance of timing. It's urgent to provide Ukraine with more weapons," he said.
NATO allies struggling to supply ammunition to Kyiv
This comes after Stoltenberg warned on Monday that Kyiv is using ammunition much faster than its allies can provide it.
In response, the alliance is scrambling to get its factories to produce more ammunition, and it is planning to organize joint weapons purchases, longer-term contracts and higher defence spending.
German Defence Minister Boris Pistorius said Berlin had signed a deal with manufacturer Rheinmetall to restart production of ammunition for Gepard air defence guns sent to Ukraine.