Philippines accuses China of firing a laser at one of its ships
Comments
By Euronews with AP, Reuters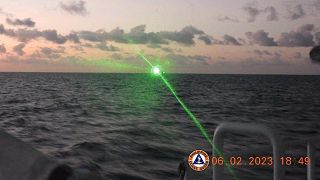 -
Copyright

AP/Philippine Coast Guard
The Philippines have accused a Chinese coastguard ship of hitting one of its vessels with a military-grade laser and temporarily blinding some of its crew, calling it a "blatant" violation of its sovereign rights.
On 6 February, the Chinese ship also allegedly moved dangerously close to the Philippine coastguard vessel, around 137 meters according to the Philippine coastguard.
At the time, the Philippine ship was trying to deliver food and supplies to troops on an atoll in the disputed South China Sea.
"The deliberate blocking of the Philippine government ships to deliver food and supplies to our military personnel ... is a blatant disregard for, and a clear violation of, Philippine sovereign rights," the Philippine coastguard said after the incident.
Beijing claims the South China Sea as its own, putting it on a collision course with other nations.
The Philippines has filed nearly 200 diplomatic protests against China's aggressive actions in the disputed waters in 2022 alone.
Although the Chinese coastguard had tried to block other Philippine coastguard ships in the region before the incident, this was the first time it used a laser, according to the Philippine coastguard spokesperson Commodore Armand Balilo.
A video released by the coastguard in Manila shows a Chinese coastguard ship cutting across the path of a Philippine vessel. The Chinese ship then emitted a green laser-like light.
In Beijing, Chinese Foreign Ministry spokesperson Wang Wenbin said a Philippine coastguard vessel trespassed into his country's waters without permission on 6 February.
He said that Chinese coastguard vessels responded, "professionally and with restraint at the site in accordance with China's law and international law."
Wang added: "We hope the Philippines will earnestly respect China's territorial sovereignty and maritime rights and interests in the South China Sea and avoid any actions that may lead to the expansion of the dispute and complication of the situation… China and the Philippines are maintaining communication through diplomatic channels in this regard."