As survival window closes, more people are miraculously rescued after quake
Comments
By Euronews with AP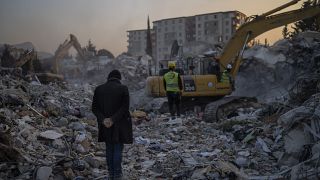 -
Copyright

Bernat Armangue/Copyright 2023 The AP. All rights reserved.
Rescue crews on Monday pulled a 40-year-old woman from the wreckage of a building a week after two powerful earthquakes struck, but reports of rescues are coming less often as the time since the quake reaches the limits of the human body's ability to survive without water, especially in sub-freezing temperatures.
The magnitude 7.8 and 7.5 quakes struck nine hours apart in southeastern Turkey and northern Syria on 6 February. They killed at least 33,185, with the toll expected to rise considerably as search teams find more bodies.
Sibel Kaya, 40, was rescued after spending 170 hours beneath the rubble of a five-story building in the town of Islahiye, in Gaziantep province. She was rescued by a mixed crew that included members of Turkey's coalmine rescue team.
Earlier, a 60-year-woman, Erengul Onder, was also pulled out from the rubble in the town of Besni, in Adiyaman province, by teams from the western city of Manisa.
"We received the news of a miracle from Besni which helped put the fire raging in our hearts a little," wrote Manisa's mayor Cengiz Ergun on Twitter.
The National Autonomous University of Mexico's Institute of Engineering Professor Eduardo Reinoso Angulo said the likelihood of finding people alive was "very, very small now".
The lead author of a 2017 study involving deaths inside buildings struck by earthquakes, Reinoso said that the odds of survival for people trapped in wreckage fall dramatically after five days, and are near zero after nine days, although there have been exceptions.
David Alexander, a professor of emergency planning and management at University College London, agreed, saying the window for pulling people alive from the rubble is "almost at an end".
But, he said, the odds were not very good, to begin with. Many of the buildings were so poorly constructed that they collapsed into very small pieces, leaving very few spaces large enough for people to survive in, Alexander said.
"If a frame building of some kind goes over, generally speaking, we do find open spaces in a heap of rubble where we can tunnel in," he said. 
"Looking at some of these photographs from Turkey and from Syria, there just aren't the spaces."
Wintery conditions further reduce the window for survival. Temperatures in the region have fallen to minus six degrees Celsius overnight.
A week after the quakes hit, many people were still without shelter in the streets. Some survivors were still waiting in front of collapsed buildings waiting for the bodies of their loved ones to be retrieved.
Many in Turkey blame faulty construction for the vast devastation, and authorities have begun targeting contractors allegedly linked with buildings that collapsed.
In Syria, UN Under-Secretary-General for Humanitarian Affairs Martin Griffiths said the international community has failed to provide aid.
He said Syrians are "looking for international help that hasn't arrived".
Watch Euronews International Correspondent Anelise Borges' report in the video above.