Devastation as far as the eye can see: Watch our Antakya drone footage
Comments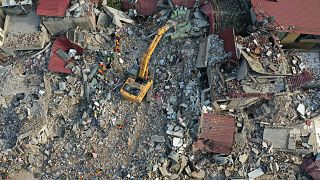 The ancient Turkish city of Antakya lies in ruins, shaken to its foundations by two powerful earthquakes, and now many of the buildings have been reduced to rubble. 
Euronews International Correspondent Anelise Borges is reporting from amid the devastation of Antakya, and took this drone video, which shows the extent of the devastation as far as the eye can see.
From the ground there's one perspective, from the drone's vantage point the scale of the disaster that has unfolded here is clear to see.  
Watch the full video by clicking on the player, above.