Ukraine war: Will Russia launch an invasion anniversary offensive?
Comments
By Euronews with AFP, AP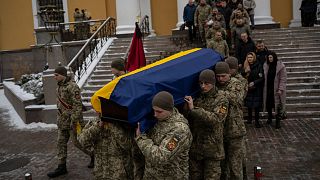 Russian shelling damaged a hospital and apartment buildings in Ukraine on Tuesday, while military analysts expressed scepticism about the potential impact of what Kyiv says is a brewing Moscow offensive around the anniversary of its invasion.
The shelling in the northeastern town of Vovchansk caused multiple fires, including at its two-storey municipal hospital, the regional State Emergency Service said in an online statement.
Emergency crews evacuated eight civilians from the site before putting out the blaze, which caused no casualties, authorities said.
Vovchansk is in the Kharkiv region, which was occupied by Russia after its full-scale invasion began on 24 February, but later retaken by Ukraine during a late summer counteroffensive.
A new, anticipated, Russian offensive may seek to recapture territory Moscow lost in that counteroffensive. 
Battlefield setbacks in Ukraine have embarrassed the Kremlin, and Russian President Vladimir Putin is keen to cement public support for the war.
Ukrainian officials say they expect Russian forces to make a new drive in eastern and southern Ukraine, as the Kremlin strives to secure territory it illegally annexed in late September and where it claims its rule is welcomed.
Some Western military analysts were sceptical, however, of Russia's ability to mount a large new offensive in coming weeks, particularly in time for the 24 February anniversary, that might alter the course of the war. Ukraine and Russia are both still training their new troops and amassing weapons.
The UK Ministry of Defence said in an assessment Tuesday that Russia is "requiring undermanned, inexperienced units to achieve unrealistic objectives due to political and professional pressure."
"Russian leaders will likely continue to demand sweeping advances," it added. "It remains unlikely that Russia can build up the forces needed to substantially affect the outcome of the war within the coming weeks."
Russia demands US stops publishing 'fake news'
The Kremlin has demanded that the American embassy in Moscow stops spreading what Moscow regards as "fake news" regarding its military operation in Ukraine -- and has even threatened to expel US diplomats over the issue. 
The warning included a harsh message to Lynne Tracy, the new US ambassador to Moscow, according to the Russian TASS news agency, which cited a senior Russian foreign ministry official who said Tracy had been told she must strictly adhere to Russian law when making any statements about Russia's armed forces in Ukraine.
US diplomats engaged in what Moscow called "subversive activities" would be expelled, TASS quoted the source as saying.
There was no immediate comment from the US embassy in Moscow.
Russia has made "discrediting" its armed forces a crime punishable by up to five years in jail, while a charge of knowingly distributing "false information" about the military carries a maximum sentence of 15 years.
Tracy arrived in Moscow last month, and 24 February will mark the first anniversary of President Vladimir Putin's decision to send tens of thousands of troops into Ukraine in what he calls a "special military operation".
Ambassador Tracy was heckled by a crowd of people chanting anti-US slogans late last month as she entered the Russian foreign ministry in Moscow to present her diplomatic credentials.
Deputy Foreign Minister Sergei Ryabkov was cited at the time as telling Tracy he expected her to follow the principle of not interfering in Russia's internal affairs.
The US Embassy said at the time: "Ambassador Tracy is focused on maintaining dialogue between our capitals at a time of unprecedented tension, protecting the interests of US citizens detained in Russia, and supporting ties between the American and Russian peoples."
Zelenskyy calls for end to rumours that undermine the war effort
Ukrainian President Volodymyr Zelenskyy called on Tuesday for an end to the spread of "rumours or any other pseudo-information" that could undermine unity in the war against Russia.
His remarks, in an address to parliament, appeared intended to end public speculation over whether Defence Minister Oleksii Reznikov will be removed and underline that only the president can take and announce such decisions.
David Arakhamia, a senior lawmaker and ally of the president, said on Sunday Reznikov would be replaced after a corruption scandal at the ministry.
A day later, Arakhamia said there would be no personnel changes this week, appearing to row back after Zelenskyy kept silent on Reznikov's future and other politicians publicly defended the minister's record.
"We are taking personnel and institutional steps at various levels in the defence and security sector that can strengthen Ukraine's position," Zelenskyy wrote on the Telegram messaging app, citing his speech to parliament.
"The necessary information is provided as regards each such step, whether personnel or institutional - at the level where decisions are made," he said, underlining that such decisions were the responsibility of only the president.