UK Prime Minister Rishi Sunak shuffles top government posts ahead of expected election
Comments
By Euronews with Reuters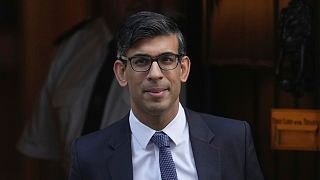 British Prime Minister Rishi Sunak has reshuffled the members of his government, shortly after marking his 100th day in office. 
He has also split up two larger government departments and created some new new ministries. 
There will be a new Department for Energy Security and Net Zero, which will have be "securing the UK's long-term energy supply, bringing down bills and halving inflation", according to Downing Street.
A new, dedicated Department for Science, Innovation and Technology will have to "deliver improved public services, create new and better-paid jobs and grow the economy".
The business and trade departments will be combined into the Department for Business and Trade. 
And the Department of Digital, Culture, Media and Sport loses digital from its portfolio and become simply the Department for Culture, Media and Sport.
Who made it into the new Sunak's government?
The timing of this mini-reshuffle has surprised some in his party, but after firing his party chairman over a financial scandal, and with an investigation into bullying allegations against his deputy prime minister, Dominic Raab ongoing, several lawmakers said PM Sunak might be seizing a chance to stamp his mark on his government.
Raab denies the allegations against him.
The prime minister also named the new chair of the party, a position made ever more important before the next general election expected in 2024, after Nadhim Zahawi was sacked over his tax affairs.
London MP, and former minister, Greg Hands becomes the new Conservative Party Chairman and said he was "excited" to be asked by Sunak to take on the role. 
Since entering Downing Street in October, Sunak has been under pressure to assert his authority not only on his government but also over his party, which ousted two prime ministers last year over scandals and economic chaos.
He has so far failed to reduce the commanding lead in the opinion polls held by the opposition Labour Party, which is increasingly presenting itself as Britain's next government.
In January, Sunak promised to tackle Britain's most serious problems, from cutting inflation to reducing illegal migration, in a move aimed at convincing his lawmakers he can lead them into the next election.