Ukraine War: Kyiv hopes new weaponry can tip the balance in Bakhmut
Comments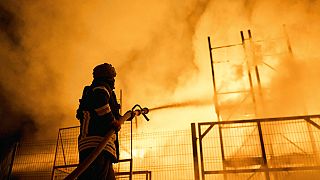 -
Copyright

LIBKOS/Copyright 2023 The AP. All rights reserved.
As Russia's invasion of Ukraine nears the one-year mark, the few remaining residents of the Ukrainian city of Bakhmut are struggling to survive.
There are currently around 7,000 people still living in the city, which has seen the majority of its 75,000 population flee.
Fighting on the frontlines has stalled for many recent weeks – but Kyiv hopes that new military artillery promised by its Western allies will tip the balance in its favour.
Advancement from either side is also partly down to the destruction of key infrastructure. On the Kherson front, Ukrainian soldiers train while searching for a way to cross the Dnipro River without suffering excessive casualties.
"Everything is because of the river, there are no bridges, it is hard to cross it" says Sergiy, a soldier, "during water crossing, 50 per cent of personnel could be lost. We do not want this."
The newly elected Czech president, Petr Pavel, is calling on Ukraine's allies to do more. "I think we should be able to provide Ukraine with all the weapons it needs to resume control over its own territory", the former NATO general said.
Ben Wallace: UK 'not ruling out' sending jets to Ukraine
The UK defence minister on Thursday said he did not rule out supplying Ukraine with fighter jets while cautioning they would not be a "magic wand" in the war.
 Ben Wallace told journalists: "On the process of jets, I've been pretty clear. One thing I've learned over the last year is don't rule anything in, don't rule anything out."
Kyiv has requested American-made F-16 warplanes to help repel the Russian invasion.
The United States has ruled out any deliveries of F-16s to Ukraine for now, but other partners including Poland have shown themselves more open to the idea.
"It's easy to sort of get carried away and, you know, last week we gave tanks and what next can we promise," Wallace said.  "There are things to promise next and, and you know, I've said in the Chamber of the House of Commons, I'm very open to examining all sorts of systems and not just jets to give Ukraine that assistance. But these things don't always happen overnight."
Kyiv Cracks down on corruption
Meanwhile, Ukrainian authorities are cracking down on corruption within agencies managing funds intended to assist victims of war.
A number of officials in Odesa have been arrested for defrauding the state of nearly €175,000.
The suspects included the former deputy head of the regional military administration, a deputy of the regional council, and a third high-ranking official, police said.
Ukraine has ramped up anti-corruption efforts in recent days ahead of a high-level meeting with EU officials. Ukraine is hoping to join the EU after having its candidacy fast-tracked and is keen to demonstrate its ability to tackle corruption – one of the EU's demands.