Bakhmut's residents braving life in a city under siege
Comments
By Euronews, Anna Gaarslev with EVN, DKDR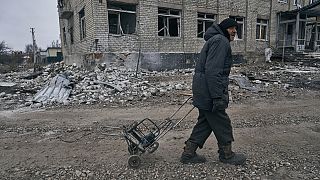 -
Copyright

LIBKOS/Copyright 2023 The AP. All rights reserved.
The remaining residents of battle-weary Bakhmut are clinging together in solidarity, scratching out a living in a Ukrainian city where the rumble and crash of war regularly punctuates the silence on the streets.
A Danish television crew visiting the city under siege found people meeting fear and adversity with kindness and sympathy.
"We are all afraid," said Tetyana. "All it takes is a little humanity and a bit of humour."
Tetyana manages a combined pharmacy, power plant and food distribution shelter in the war-torn city. She showed Danish correspondent Anna Gaarslev the meal she was cooking for some of the city's vulnerable residents.
She said: "Today, I was inspired, so I have decided to make a stew with canned beef and vegetables and a leek soup."
In the shadow of destroyed buildings in the western part of the city, a street market sells vegetables and sausages. Shoppers explain why they have chosen to stay in their homes rather than flee the fighting.
Lesya said: "We love our city. Don`t you love your city too? The same way we love ours. Our city is covered in blood, and we are being killed. But we love it anyway."
"I have only two relatives left here, my aunt and my cousin," says Ruslan. "They don't want to leave. And I don't want that either."
Leaving Bahkmut is not the only dilemma for Ruslan. When the shells and bombs come, he has other choices to make.
"I have to consider what is most dangerou - inside, where the ceiling and everything can fall on my head, or outside where I can get away. I do not know."
Despite the constant threats faced by people in Bakhmut, some of its residents cling to a sense of optimism and hope for peace.
"I am asking the whole world to give us so much peace here. Then I distribute it so that everyone gets a small seed of peace," says Tetyana. "It is almost Spring and we are sowing our fields with all the good things. Then it grows and becomes so big. Afterwards, we Ukrainians, who are a truly good-natured people, will share the peace with the whole world."