Ukraine war: Heavy fighting in Donetsk, Moscow's 'big revenge', fighter jets for Ukraine
Comments
By Euronews with Reuters, AP, AFP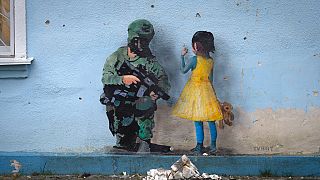 -
Copyright

Efrem Lukatsky/Copyright 2023 The AP. All rights reserved.
1. Fighter jets for Ukraine: 'Nothing' off the cards, says Macron
French President Emmanuel Macron said on Monday that "nothing is forbidden in principle" when asked about the possibility of sending fighter jets to Ukraine. 
He said certain "criteria" would have to be met before any decision was made, such as after a formal "request" from Kyiv. 
Other conditions were that delivering jets was "not escalatory", "not likely to touch Russian soil but to help the resistance effort" and did "not weaken the capacity of the French army".
"By definition, nothing is excluded," Macron said, emphasising Kyiv was not currently making this demand. 
France would continue to look at weapons deliveries to Ukraine on a "case-by-case basis", he added. 
The Ukrainian Minister of Defence, Oleksii Reznikov, is expected in Paris on Tuesday for talks with his French counterpart Sébastien Lecornu.
After several weeks of hesitation, Berlin decided on Wednesday to send 14 German-made Leopard 2 tanks to Ukraine and to allow other European countries to supply similar tanks to Kyiv.
But Germany will not send fighter jets to Ukraine, German Chancellor Olaf Scholz said on Sunday.
2. Moscow's 'big revenge' has begun, says Zelenskyy
Russia has begun its "big revenge" for Ukraine's resistance to its invasion, Ukrainian President Volodymyr Zelenskyy said on Monday. 
Zelenskyy has been warning for weeks that Moscow aims to step up its assault on Ukraine after two months of virtual stalemate along the front line that stretches across the south and east.
While there was no sign of a broader new offensive, heavy fighting is raging in the east as Russia pushes towards Bakhmut, a city it has cast as key to seizing the prized Donbas region. 
Zelenskyy said Russian attacks in the east were relentless despite heavy casualties on the Russian side, casting them as payback for Ukraine's success in pushing Russian forces back from the capital, northeast and south earlier in the conflict.
"I think that Russia really wants its big revenge. I think they have [already] started it," Zelenskyy said.
In recent weeks Western countries have pledged hundreds of modern tanks and armoured vehicles to equip Ukrainian forces for a counter-offensive to recapture territory later in 2023.
But the delivery of those weapons is months away, leaving Kyiv to fight on through the winter in what both sides have described as a meat grinder of relentless attritional warfare.
Zelenskyy has urged the West to hasten the delivery of its promised weapons so Ukraine can go on the offensive.
3. Ukraine bans senior officials from holidaying abroad
The Ukrainian government has banned its senior and elected officials from going on vacation, following a string of corruption scandals involving important figures inside the country.
A government resolution "has already entered into force", Ukrainian border guard spokesman Andriy Demchenko told reporters on Monday. "They can now only leave as part of a mission."
When war broke out in February, Ukraine banned males of fighting age (18-60) from travelling abroad except in rare exceptions, which required official approval. 
Under the new rules, senior officials will only be able to leave Ukraine to visit their children, receive medical treatment or after the death of a loved one, detailed Demtchenko.
The ban also extends to women senior civil servants as well as deputies and local elected officials, according to a document published on the official government website.
The resolution came amid press reports that an assistant attorney general had recently gone on vacation to Marbella, a popular Spanish resort.
Oleksiy Symonenko was sacked on 25 January, as part of a series of dismissals initiated by Zelenskyy following a corruption case involving army supplies.
A member of the presidential party, Mykola Tychchenko, was also expelled on 26 January after a trip to Thailand, while former Prime Minister Yulia Tymoshenko has been accused of vacationing in a luxury villa in the United Arab Emirates. 
4. Slovenia arrests suspected Russian spy couple
Slovenia announced on Monday it had launched an investigation into a Russian couple suspected of spying, according to local media.
"Investigations are underway against the two suspects who were arrested on December 5," prosecutor Katarina Bergant told reporters. 
She did not provide more details. 
According to Delo, a daily Slovenian newspaper which revealed the affair, the investigation surrounds members of the Russian intelligence services.
To cover their actions, the agents allegedly created an art gallery and a computer company in central Ljubljana, the capital, and operated under false identities. 
The two suspects held Argentinian passports.
Other media reports that they are 38 years old and have two children.
"This is a very serious matter, which we are following with the greatest attention," Foreign Minister Tanja Fajon told reporters.
Like many of its European neighbours, Slovenia – a former Yugoslav republic – expelled 33 Russian diplomats in April, amid the grinding Russian invasion. 
5. Ukraine army says Blahodatne still standing, Wagner claims otherwise
Ukraine's military said on Sunday its forces repelled an attack in the area of Blahodatne in the eastern part of the Donetsk region. In contrast, Russia's Wagner private military group said it took control of the village.
"Units of Ukraine's Defence Forces repelled the attacks of the occupiers in the areas of ... Blahodatne ... in the Donetsk region," the General Staff of Ukraine's Armed Forces said in its daily morning report, referring to fighting on Saturday.
It added that its forces repelled Russian attacks in the areas of 13 other settlements in the Donetsk region.
The Wagner Group, designated by the US as a transnational criminal organisation, said on the Telegram messaging app on Saturday that its units had taken control of Blahodatne.
Reuters was not able to independently verify the reports.
With fighting heating up in the Donetsk region, the exact line of contact has been unclear, especially around the town of Bakhmut, where some of the heaviest fighting of the war has been taking place in recent weeks. The Wagner Group has made premature success claims before.
Ukraine has said that the Russian offensive on Bakhmut has not culminated, but the situation along the front line there has been growingly difficult. President Volodymyr Zelenskiy said on Friday that it was acute.