Two scenarios for a possible Ukrainian counteroffensive
Comments
By Sasha Vakulina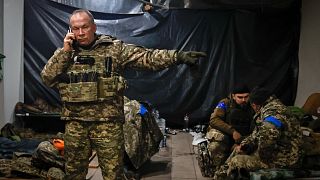 -
Copyright

Roman Chop/Copyright 2023 The AP. All rights reserved.
The UK Ministry of Defense (MoD) and the US-based Institute for the Study of War agree in their latest assessments that Russian forces are preparing for the possibility of future Ukrainian counteroffensives. The question is, where exactly will it happen?
The MoD suggested that Russian forces face two equally exigent counteroffensive scenarios: in the North East of Ukraine, in Luhansk, and in the South in the Zaporizhzhya region.
In recent weeks, Russia has bolstered defensive fortifications in the central Zaporizhzhia region, especially between Vasilyvka and Orikhiv.
Russia maintains a large force in this sector, says the UK defence ministry. A Ukrainian breakthrough on the Zaporizhia line could seriously challenge the viability of the Russian land bridge linking the Rostov region with occupied Crimea.
Luhansk in target
The second counteroffensive scenario is a Ukrainian breakthrough in the Luhansk region that could further unhinge the Russian offensive objective of occupying the entirety of Donbas.
"The way Russia has worked on improving defences suggests commanders are highly likely preoccupied with the potential for significant Ukrainian offensive action", says the UK defence ministry.
New tanks for Ukraine "won't change anything"
But deciding which of these threats to prioritise countering is likely one of the central dilemmas for Russian operational planners.
More than ten months into Russia's full-scale invasion, the new armoured fighting vehicles Western allies offered to Ukraine over the past few days signalled they were gearing up for a new phase of Ukrainian counteroffensives. Kremlin spokesman Dmitry Peskov told reporters on Monday that "This supply will not be able to change anything."