Two brothers in Sweden jailed on charges of spying for Russia
Comments
By euronews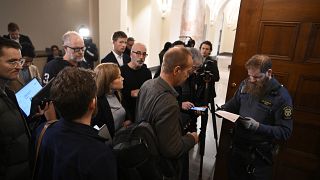 Copyright

Jessica Gow/Jessica Gow

-
In Sweden, two brothers have been sent to prison, the older one for life, the other for ten years, after being found guilty of spying for Russia for a decade.
42-year-old Peyman Kia had a background in the Swedish Security Police and the Armed Forces.
At the time of his arrest in the autumn of 2021, he was working as a high-ranking head of a major authority. Later his younger brother Payam was also arrested.
In November last year, both were charged with aggravated espionage and the subsequent trial has been surrounded by extensive security and secrecy.
The older brother is said to have obtained around 90 documents, of which the younger brother contributed around 65 documents.
Prosecutors said the pair acted purely for the money.
"The only purpose of the act, as we can see from the evidence, has been for those involved to simply enrich themselves," said Måns Wigren, Chief Counsellor at Stockholm District Court, "and there are no extenuating circumstances."
Both brothers have consistently denied the offences.