'People always say never again': Ukraine's Jewish community marks Holocaust Memorial Day
Comments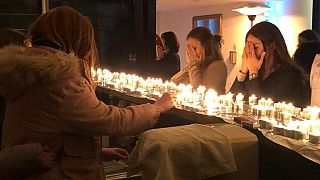 -
Copyright

Refael Kruskal
For many Ukrainian Jews -- living under the daily threat of a Russian missile barrage, or who have been displaced from their homes -- Holocaust Memorial Day has extra resonance this year.
"People always say never again, never again, but this year it is actually happening again", said Rabbi Refael Kruskal, the son of a Bergen-Belsen Holocaust survivor.
"An aggressive country came to invade another and then it took time for the world to wake up and help Ukraine".
Kruskal moved to Ukraine in 1999 to work for Tikva, a charity which runs orphanages and educational facilities for Jewish children in Odesa, southwest Ukraine.
Since February 2022, his charity has evacuated more than 4,300 Jewish and non-Jewish Ukrainians. A thousand of them are now living in a seaside resort on the Black Sea in Romania.
"Most people didn't want to believe there would be a war, but I couldn't stop thinking back to World War II. A lot of things happened that shouldn't have because leaders didn't act quickly enough. I didn't want my community to go down in history because of that."
Kruskal is the Vice-President of Odesa's Jewish community -- a population he estimates stood at 45,000 before Russia's invasion of Ukraine.
Even before the invasion began, Kruskal and his charity started collecting supplies, buying 20 tonnes of dried food, generators, petrol and sleeping bags.
Helping Jews and non-Jews alike
"We acted fast and left as soon as the war broke out. We had buses going from the synagogue everyday, initially to Western Ukraine and then we took a lot of people to Romania."
Anyone could get on the buses -- Jewish or not -- a commitment to those in need which goes back to Kruskal's own family history. 
"My father-in-law's parents were killed in Auschwitz, but he was hidden by a non-Jewish person in Holland. My father was also helped by many non-Jewish people during the war," he said.
Of the 1,000 Ukrainians that Kruskal helped evacuate to a Romanian resort, around 200 of them are children from the Odessa orphanages, as well as 70 elderly people and even a Holocaust survivor.
There are also twelve psychologists on site with the refugees in a bid to help them process their traumas.
This year, the evacuated Ukrainian community in Romania will hold a memorial ceremony, which is also open to people of all faiths. 
The service is a symbol of unity, organisers say, against the "senseless" claims made by Russian President Vladimir Putin to justify his invasion that Ukraine needed to be "denazified". 
"I never had to run away from Ukrainians, but I helped my entire community flee Ukraine because of Russian bombs," Kruskal explained.
"Seventy years ago there was antisemitism and Jews were killed in Ukraine. But today we have a completely different Ukraine, one which is closer to Europe and voted in a Jewish President."
Those who stayed behind
Though many Ukrainians have had their lives turned upside down over the course of the last year, some Jews will mark Holocaust Memorial Day from Ukraine.
Meylakh Sheyket is the director of the Union of Council for Jews in the Former Soviet Union, as well as an active member of the small Jewish community of Lviv. 
He was born in Korosten, a city in modern-day Northern Ukraine.
Since the beginning of the Russian invasion, daily meals have been cooked and served in the prayer room of the synagogue he attends.
Lviv's Golden Rose synagogue was the city's oldest, a Renaissance-era building destroyed by the Nazis during WWII.
"We decided that the best answer to Putin's war was to provide free food for refugees," explained Sheyket, with all members of the local community welcomed to eat together.  
Sheyket said his sense of commitment to humanitarian causes overrides any desire to flee the war in Ukraine.
However, he speaks of a tough situation which has taken a toll: "even though we are in the safest region in Ukraine, the sirens, the threat of bombs are very difficult to live with."  
Despite the difficult circumstances, this year's Holocaust Memorial Day will be marked by many in Ukraine's Jewish community. 
"We can never learn how to move forward without a look back at history," said Rabbi Kruskal.