Jerusalem: Two more wounded in another shooting after seven killed outside synagogue
Comments
By Euronews with AP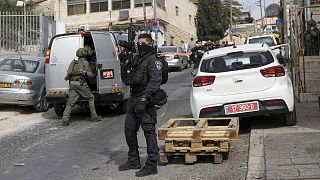 -
Copyright

AP Photo/Maya Alleruzzo
 A Palestinian gunman opened fire in east Jerusalem on Saturday, wounding at least two people, less than a day after another assailant killed seven outside a synagogue in the deadliest attack in the city since 2008.
The shooting in the Palestinian neighbourhood of Silwan in east Jerusalem, near the historic Old City, wounded at least two men, aged 23 and 47, in their upper bodies, paramedics said. They were fully conscious and in moderate to serious condition in the hospital, the medics added.
Police shot the attacker, but there was no immediate word on his condition. Authorities taped off the scene of the attack, and emergency vehicles and security forces swarmed the area as helicopters whirled overhead.
Saturday's events raised the possibility of even greater conflagration in one of the bloodiest months in Israel and the occupied West Bank in several years.
On Friday, a Palestinian gunman killed at least seven people in a Jewish settlement with a large ultra-Orthodox population in east Jerusalem, including a 70-year-old woman.
The attack, which took place as worshippers celebrated the Jewish Sabbath, came briefly after an Israeli military raid killed nine people in the West Bank. 
The new attack set off public celebrations in both the occupied West Bank and Gaza Strip, where people fired guns into the air, honked car horns and distributed sweets.
The burst of violence, which also included a rocket barrage from Gaza and retaliatory Israeli airstrikes, has posed an early challenge for Israel's new government, which is dominated by ultranationalists who have pushed for a hard line against Palestinian violence. 
Israeli police said the attack occurred in Neve Yaakov, a Jewish area in east Jerusalem. It said forces rushed to the scene and shot the gunman. 
"The terrorist was neutralised," it said, using a term that typically means an attacker has been killed. There was no immediate confirmation of his condition.
Israel's national rescue service, MADA, initially confirmed five deaths and five others wounded, including a 70-year-old woman, a 60-year-old woman and a teenage boy. Jerusalem's Hadassah Hospital later said one man in his 40s had died from his wounds.
The shooting was the deadliest on Israelis since a 2008 shooting killed eight people in a Jewish seminary in Jerusalem, according to Israel's Foreign Ministry. 
PM Netanyahu asks Israelis not to take law into their own hands
Overnight Thursday, Gaza militants fired a barrage of rockets into southern Israel, with all of them either intercepted or landing in open areas. 
Israel responded with a series of airstrikes on targets in Gaza. No casualties were reported. Earlier in the day, Gallant had ordered Israel to prepare for new action in Gaza "if necessary."
There was no immediate claim of responsibility for Friday's shooting. In Gaza, Hamas spokesman Hazem Qassem said the attack was "a revenge and natural response" to the killing of nine Palestinians in Jenin on Thursday.
At several locations across the Gaza Strip, dozens of Palestinians gathered in spontaneous demonstrations to celebrate the Jerusalem attack.
In downtown Gaza City, celebratory gunfire could be heard as cars honked. In the West Bank town of Jericho, Palestinians launched fireworks and honked horns in celebration.
The attack escalated tensions already heightened following the deadly military raid in the West Bank town of Jenin - where nine people, including at least seven militants and a 61-year-old woman, were killed. 
It was the deadliest single raid in the West Bank in two decades. A tenth Palestinian was killed in separate fighting near Jerusalem.
Palestinians had marched in anger earlier Friday as they buried the last of the 10 Palestinians killed a day earlier.
Scuffles between Israeli forces and Palestinian protesters erupted after the funeral for a 22-year-old Palestinian north of Jerusalem and elsewhere in the occupied West Bank. Still, calm prevailed in the contested capital and in the blockaded Gaza Strip for most of the day.
Signs that the situation might be calming quickly dissolved with Friday night's shooting. Israel's opposition leader, former Prime Minister Yair Lapid, called it "horrific and heartbreaking."
Addressing reporters at Israel's national police headquarters, Prime Minister Benjamin Netanyahu said he had held a security assessment and decided on "immediate actions." 
He said he would convene his Security Cabinet on Saturday night, after the end of the Sabbath, to discuss a further response.
Netanyahu declined to elaborate but said Israel would act with "determination and composure." He called on the public not to take the law into their own hands.
Tensions have soared since Israel stepped up raids in the West Bank last spring following a series of Palestinian attacks. 
Jenin, which was an important militant stronghold during the 2000-2005 intifada and has again emerged as one, has been the focus of many of the Israeli operations.
Nearly 150 Palestinians were killed in the West Bank and east Jerusalem last year, making 2022 the deadliest in those territories since 2004, according to leading Israeli rights group B'Tselem. Last year, 30 people were killed in Palestinian attacks against Israelis.
Israel has established dozens of settlements in the West Bank that house 500,000 people. The Palestinians and much of the international community view settlements as illegal and an obstacle to peace, even as talks to end the conflict have been moribund for over a decade.