Czech Republic heads to the polls for two-day runoff presidential election
Comments
By Euronews with AP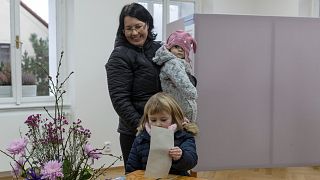 Czechs started voting Friday for a new president, choosing between a retired army general and a populist billionaire in a two-day runoff election to succeed controversy-courting Milos Zeman in the largely ceremonial post.
Petr Pavel and Andrej Babis, who is a former prime minister, advanced to a second round of voting because none of the eight initial candidates received an absolute majority in the first round two weeks ago.
Pavel, a former chairman of NATO's military committee, is a political newcomer. He fully endorsed the country's military and humanitarian support for Ukraine in its fight against Russia and sees the Czech Republic's future linked to membership in the European Union and NATO.
Babis, whose centrist ANO (YES) movement ended up in opposition after losing the 2021 general election, is supported by his ally Miloš Zeman, his country's current president and who he shares Eurosceptic views and the habit of using anti-migrant rhetoric.
A number of scandals hasn't harmed Babis' popular support, particularly with his base, older voters.
Only days before the first round, a Prague court acquitted him of fraud charges in a €1.8 million case involving EU subsidies. Babis said the charges against him were politically motivated.
In a campaign marred by false accusations and controversies, Babis caused a stir by stating that he wouldn't send troops to Poland or the Baltic if his country's NATO allies were attacked. He later backtracked.
For more watch Euronews' report in the video above.