Russia claims to have captured a village in the Donetsk region of Ukraine.
Comments
By Euronews with AP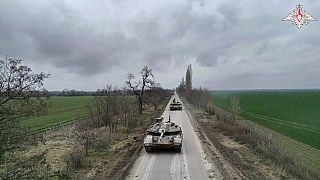 -
Copyright

Russian Defence Ministry Press Service via AP
As the war in Ukraine grinds on, Moscow says its forces have captured the village of Krasnopillia in the Donetsk region.
Images released by the Defence Ministry purport to show Russian tanks rolling into the area, although the claim has not been independently verified.
Separately, Germany may not yet have made a decision on sending tanks to Ukraine, but it has begun dispatching Patriot missile systems to the country's border with Poland.
Bonn says this will provide protection against air attacks in the region, and says its troops are not the only defence forces on the ground.
"Overall, we are pleased to be able to offer this system to the Poles to strengthen the protection there,"  said Colonel Joerg Sievers, who heads the German Armed Forces Patriot mission in Poland. "The British and Americans are also on the ground. Now we are joining them to ensure that NATO airspace and Poland's territory, infrastructure, and population are safe",
Meanwhile, to the north of Ukraine, troops have been fortifying defences close to the border with Belarus.
This comes after joint exercises between Russia and Belarus raised fears of a renewed offensive from that side of the frontier.