Demonstrators gather in Hamburg against threat of nuclear confrontation in Ukraine
Comments
By Kristina Jovanovski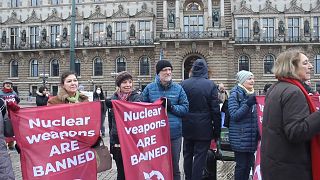 A call for peace. The International Physicians for Prevention of Nuclear War (IPPNW) demanded all nuclear weapons to be destroyed as they demonstrated in front of Hamburg's city hall on Sunday.
The Nobel-Peace-Prize-winning organisation began in the 80's by US and Soviet doctors against the nuclear arms race. The protesters are now concerned the war in Ukraine increases the risk of such weapons being used.
'No first use of nuclear weapons'
Angelika Claussen is the Co-Chair at the International Physicians for the Prevention of Nuclear War and said the main players in the current conflict must declare their intentions:
"Especially for the biggest nuclear weapon countries, Russia and US, which is also involved indirectly in the war, they have to declare that they will not use nuclear weapons in this war. No first use of nuclear weapons."
This protest is marking the two-year anniversary of a UN treaty banning the use of nuclear weapons. It's believed that Russia could deploy tactical nuclear weapon in Ukraine.
But experts at a conference leading up to this demonstration said there is no such thing as a small nuclear weapons. It's not just weapons that worry the campaigners.
They also talked about the threats of nuclear energy, and the potential damage from possible accidents from power plants around the world. International experts are pushing for a protection zone around Ukraine's largest plant at Zaporizhzhia.
"To enforce some sort of zones around them so that they are not in any danger of being hit by missiles, bombs or shelling so that would minimize the risk," Linda Gunter from Beyond Nuclear International said. "But again it won't remove the risk entirely because meltdowns can still happen from loss of power, human error," she added.
Another group of experts will highlight the risks of nuclear weapons on Tuesday.
Watch the video in the player above.