Zelenskyy repeats urgent calls for tanks at NATO defence ministers meeting
Comments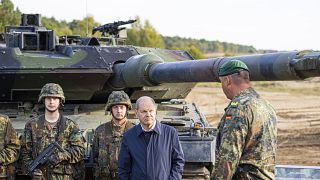 -
Copyright

Moritz Frankenberg/(c) Copyright 2022, dpa (www.dpa.de). Alle Rechte vorbehalten
NATO defence ministers are meeting at Ramstein air base in Germany to discuss Ukraine's request for Western battle tanks, with the host nation under increasing pressure to provide Kyiv with German-manufactured Leopard 2 tanks.
Joining the meeting via video link from Kyiv, Ukraine's President Volodymyr Zelenskyy appealed to the West to send tanks without delay, to help his forces launch future counteroffensives against Russia. 
"It is in your power to make a Ramstein of tanks, not to bargain about different numbers of tanks, but to open a principal supply that will stop Russian evil," Zelenskyy said.
The summit is being chaired by US Defence Secretary Lloyd Austin and attended by Germany's new Defence Minister Boris Pistorius, who is on his second day in office.
Ahead of the talks, the US Defence Secretary announced a new military package for Kyiv. But once again, tanks were off the table.
"This newest package also helps meet Ukraine's urgent need for armour and combat vehicles. So, we're providing 59 more Bradleys, 90 Strykers, 53 MRAPs ad 350 up-armoured Humvees," Austin announced. 
The US has stopped short of proving its M1 Abrams tanks to Ukraine. Berlin argues it would be more productive to send Leopards as Ukrainian troops would require far less training to learn how to operate them. 
Whatever the outcome of the talks, Ukraine has been assured it will receive at least 14 Challenger tanks from the UK.
Britain says its offer is not conditional on other allies making similar donations. Separately, Poland says it may not wait for German approval to send its Leopards. 
"Consent is a secondary issue here," said Poland's Prime Minister Mateusz Morawiecki told Poland's public radio broadcaster on Wednesday.
"We will either get this agreement quickly, or we will do the right thing ourselves," he added.
Watch the video in the player above to find out more.