Europe pledges more weapons as European Council President Charles Michel visited Ukraine
Comments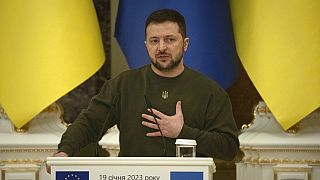 Copyright

Efrem Lukatsky/Copyright 2023 The AP. All rights reserved.

-
European Council president visits Ukraine
The President of the European Council, Charles Michel, visited Ukraine on Thursday.
After paying his respects and laying a wreath at the Wall of Remembrance in the capital Kyiv, he held talks with Ukrainian President Volodymyr Zelenskyy on what more concrete measures Europe can take to support the country in its war with Russia.
Zelenskyy has repeatedly asked the West to provide heavy battlefield tanks to his military, but Michel preferred, at least for the moment, to concentrate more on the sanctions front.  
"Certainly, a 10th pack of sanctions will be needed and to be clear we have to see which additional sectors can be targeted in the future," said Michel.
US defence secretary visits Germany
On the same day, Germany's new defence minister Boris Pistorius welcomed his US counterpart Lloyd Austin in Berlin. 
The two are due to attend the first meeting of the Ukrainian Defence Contact Group on Friday 20 January at Ramstein Air Base in Germany. 
He's coming under increasing pressure from allies to give the green light for German-made Leopard 2 tanks to be sent to Ukraine, but as yet he's steered clear of giving a direct answer.
"German weapons systems delivered so far to Ukraine have proven their worth for example howitzers, Gepard or the state-of-the-art Iris air defence system," said Pistorius ahead of the meeting. "Together with our partners, we will continue to support Ukraine in its fight for freedom, territorial independence and sovereignty."
The Swedish government will send Archer Artillery System
Elsewhere, the Swedish government has announced it will send the Archer artillery system as part of a new, 10th, aid package for Ukraine.
Estonia to send heavy weapons
And on Twitter, the Estonian Prime Minister, Kaja Kallas, announced her country is to send its biggest package of heavy weapons so far to Ukraine, including howitzers, grenade launchers and ammunition. 
Russia says supplying Kyiv with weapons that can strike on Russian soil would bring the conflict to a new level, and even discussing it is extremely dangerous says the Kremlin.