Belgian MEP failed to declare expenses-paid trip to Qatar
Comments
By Euronews with AFP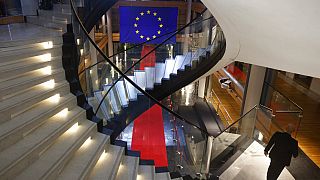 -
Belgian Socialist MEP Marc Tarabella, a suspect in the European Parliament's Qatargate corruption scandal, failed to declare a working trip he made to Qatar in 2020, his lawyer said on Sunday.
Tarabella has not been charged in connection with the inquiry but he is close to Pier-Antonio Panzeri, an Italian former MEP from whose house €600,000 in cash was seized as part of the inquiry. Belgian authorities have asked for Mr Tarabella's immunity to be lifted.
Last week another Belgian MEP, Socialist Maria Arena, said she had "forgotten" to declare a similar expenses-paid trip to Qatar last year.
President Roberta Metsola is due to unveil proposals to crack down on corruption within the parliament later today.
The European Parliament is set to unveil proposals to crack down on corruption. Parliament President Roberta Metsola and the heads of parliamentary political groups met on Thursday to discuss measures and actions to be taken, which will be presented by Metsola today.
Belgian police conducted a string of raids in December on the addresses of MEPs, former MEPs and lobbyists, recovering a total of €1.5 million in cash. Four suspects were arrested, including one of the assembly's vice presidents, Greek MEP Eva Kaili.