UN chief warns that rule of law risks turning into 'rule of lawlessness'
Comments
By Euronews with AP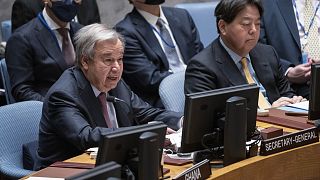 -
Copyright

John Minchillo/Copyright 2023 The AP. All rights reserved.
United Nations Secretary-General António Guterres warned Thursday that the rule of law risks turning into "the rule of lawlessness," citing a variety of unlawful actions committed by various states around the world, including Russia's invasion of Ukraine.
The UN chief addressed the Security Council, painting a bleak picture of the current state of peace in numerous countries and urging member states to uphold the "the vision and the values" of the UN Charter and the Universal Declaration of Human Rights.
As an example of the rule of law being violated, Guterres pointed first to Moscow's aggression in Ukraine.
The war, in the UN chief's words, has created a "humanitarian and human rights catastrophe, traumatised a generation of children, and accelerated the global food and energy crisis." 
Referring to Russia's annexation of four regions in Ukraine in late September as well as its 2014 annexation of Crimea, he claimed any annexation resulting from the threat or use of force violates the UN Charter and international law.
Guterres further referenced a host of critical situations around the world, from coups in Africa's Sahel region to North Korea's illegal nuclear weapons programme and Afghanistan's attack on women's and girls' rights.
He also cited the breakdown of the rule of law in Myanmar since the military ousted the elected government of Aung San Suu Kyi in February 2021, and noted his concern about Israel's Prime Minister Benjamin Netanyahu's new conservative government, fearing an aggravation of tensions between Israelis and Palestinians.
"From the smallest village to the global stage, the rule of law is all that stands between peace and stability and a brutal struggle for power and resources," Guterres stressed, claiming that the world was at "grave risk of the rule of lawlessness."
The council meeting on strengthening the rule of law was presided over by Japan's Foreign Minister Yoshimasa Hayashi and saw approximately 80 countries speak.
The topic sparked a heated debate, as Russia and Western supporters of the Kyiv government clashed over the war in Ukraine.