'Three Amigos' wrap up North American Leaders' Summit
Comments
By Euronews with AP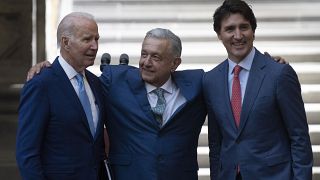 -
US President Joe Biden, Mexico's President Andrés Manuel López Obrador, and Canadian Prime Minister  Justin Trudeau sought to downplay their frustrations with one another on migration and trade as they met for the near-annual North American Leaders' Summit.
The leaders offered a unified front on Tuesday despite tensions that have put a strain on their relationship even as Biden has made repairing alliances a cornerstone of his foreign policy agenda.
The tensions were front and centre when Biden and López Obrador met on Monday, with the Mexican president complaining of "abandonment" and "disdain" for Latin America.
But as they closed Tuesday's summit in Mexico City with a joint news conference, the leaders offered an optimistic outlook.
"We're true partners the three of us," Biden said, adding that they had "genuine like" for one another. 
"We share a common vision for the future, grounded on common values."
López Obrador, for his part, thanked Biden for not building "even one metre of wall," a not-so-subtle dig at Biden's predecessor Donald Trump. 
The three-way gathering is held most years, although there was a hiatus while Trump was president. It's often called the "three amigos summit," a reference to the deep diplomatic and economic ties among the countries.
For more watch Euronews' report in the video above.